ADVICE TO SID: Yesterday brought about another round of Penguins star Sidney Crosby retirement banter with a station in Halifax reporting he won't be ready for the season only to have it denied by his agent. The uncertainty of the report didn't stop Cathal Kelly of the Toronto Star from writing a column on why Crosby should retire. The man has already left an indelible mark on the NHL and won a Stanley Cup, so why risk it? Here's the crux: "There are no goals left for him in the game. At best, all he achieves from now on is more of the same. He still has an entire life to lead after hockey, whether it ends tomorrow or in a decade. What's in the balance is how capable he will be of leading it fully."

TOUGH SELL: The St. Louis Blues are still on the market and have been a while. Owner Dave Checketts had asked for proposals to be submitted to buy the organization and only one bid came through, that of current minority owner Tom Stillman. The problem is the offer is the same as his previous one (via Andy Strickland), below even the team's current debt, so there's hope another offer can come up. That could still come from Matthew Hulsizer, who didn't submit an offer but that doesn't mean he's done. Either way, the hockey market is hardly favorable (via Globe and Mail).

MIKITA'S BATTLE: It was in May that Blackhawks legend Stan Mikita announced he had Stage 1 oral cancer. Well, the good news is that Mikita says he is "coming along real well" (via Daily Herald) and he'll have a better idea next week when he visits his doctor.
HAWAII HOCKEY: You've heard the relocation cities -- Quebec City, Hamilton, Ont., Seattle, Houston, Las Vegas -- but here's a new one: Honolulu. Seriously. The On Goal Analysis blog makes the argument why Hawaii should be considered for a hockey franchise down the line. If you don't believe me, you can read it for yourself here.

JERSEY TALK: The Winnipeg Jets still haven't revealed their new jersey, but that's not stopping "leaks" from coming out. Check out the latest one down below. Of course, True North Sports and Entertainment has denied it, saying the leaked look is "not even close" (via Slam Sports). Considering that was the case with the logo, I'll imagine he's telling the truth. But time will tell.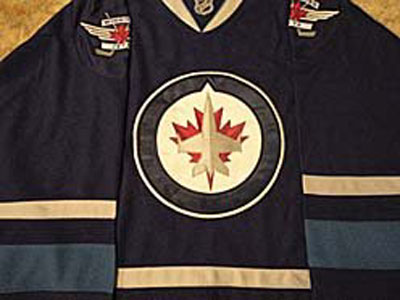 Photo: Slam Sports
For more hockey news, rumors and analysis, follow @EyeOnHockey and @BrianStubitsNHL on Twitter.