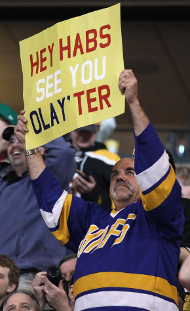 The sequel is never as good as the original. In the case of the Boston
Bruins
vs. Montreal
Canadiens
, the last one wasn't that good either.
Thursday's "rematch" between the Canadiens and Bruins again wasn't competitive, not that many remember Montreal eased to a three-goal win on March 8. No, that game was all about Bruins defenseman
Zdeno Chara
's check that sent Canadiens forward
Max Pacioretty
off a padded divider between the benches. The collision left Pacioretty with a broken bone in his neck, a concussion and a good portion of Quebec in an uproar.
It was payback time Thursday, right? Not quite. Chara, who was not suspended for the collision with Pacioretty, was the games No. 1 star with three assists as the Bruins extended their Northeast Division lead with a 7-0 victory. On a night that featured three shootouts in games that will help determine the postseason order, what transpired at TD Garden wasn't nearly as compelling.
There were a couple roughing penalties and Montreal's
Paul Mara
and Boston's
Gregory Campbell
were sent to the box for fighting, but those things happen in just about any blowout.
"We just went out there, we were focused on doing it right," Bruins coach Claude Julien
told CSN New England
. "And for us, it's a win that we needed, for all the right reasons, standings and everything else. I think our guys felt good about our performance tonight, and rightfully so."
Even as police in Montreal investigate whether Chara violated any laws with his check a couple weeks ago, Boston authorities won't be involved this time --- unless somebody wants to file a missing team report. The Bruins dominated in every facet, including nearly doubling up the Habs with 41 shots on net. Boston goalie
Tim Thomas
, one of the leading candidates for the Vezina Trophy, made 24 saves for his eighth shutout of the season.
There was a confession after the game, but nobody was Mirandized.
Veteran Bruins forward
Mark Recchi
told
The Boston Globe
he intentionally tried to take the heat off Chara when he told a sports talk station that Montreal embellished the severity of Pacioretty's injuries, comments that drew strong rebuke from the Habs' locker room earlier Thursday.
"Well, I have to be honest with you guys, I wanted to take the heat off Zee for a day,'' Recchi told reporters afterward. "I'm a big boy. And I think anyone who knows me, knows that I have great respect for the Montreal organization. I played five years there. I have great respect for Doctor [David] Mulder, the medical staff there.

"I had five great years there,'' Recchi said of his time in Montreal. "I took the pressure off Zee. In 22 years, I've respected all my teammates, all the players I play against. My record has shown that. For 22 years. I just took the pressure off Zee for one day, I'm a big boy, I can handle that.''
Chara told
The Globe
he appreciated the gesture:
"I obviously don't know exactly all the comments,'' Chara said of the remarks Recchi made on 98.5 The Sports Hub. ``But he's such a great teammate and such a respected guy and leader. It's a thrill to have him. We all learned so much from him. He's obviously the next Hall-of-Famer and such a classy guy. Like I said, I can't thank him enough to be my teammate and be part of this team, and helping all of us to be better.''
HILLER PULLED IN RETURN:
Jonas Hiller
, who hadn't played a game since Feb. 13 as he was sidelined with vertigo, lasted only 11 minutes, 39 seconds into Thursday's game in Nashville. He allowed three goals on nine shots before
Dan Ellis
was tapped to enter the game. Ellis actually took the loss in the Preds' 5-4 victory.
"I didn't think he saw the puck,"
Ducks
coach Randy Carlyle told
Eric Stephens of The Orange County Register
. "I understand his first game back, it's not easy to pull him. In my mind, you don't do that against him. You do it for the rest of the team. That's what I always say."
THURSDAY'S RESULTS
Pittsburgh 2, Philadelphia 1 (SO)
Ottawa 2, NY
Rangers
1 (SO)
Atlanta 2, NY
Islanders
1
Boston 7, Montreal 0
Nashville 5, Anaheim 4
St. Louis 4, Edmonton 0
Toronto 4, Colorado 3
Phoenix 3, Columbus

0
Los Angeles 4, San Jose 3 (SO)
-- A.J. Perez


Photo: Getty Images