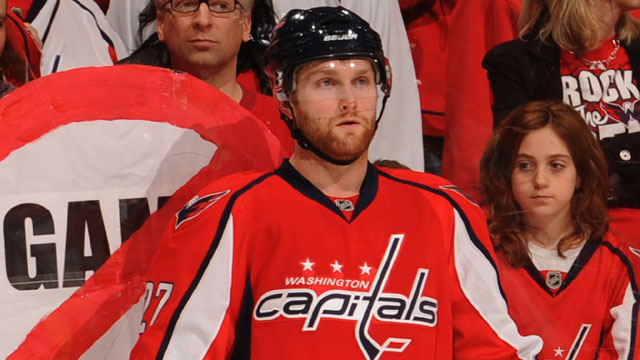 By Brian Stubits
The Washington Capitals added to their offseason transactions by re-signing defenseman Karl Alzner, a restricted free agent, to a two-year contract, the team announced Friday morning. The contract calls for an annual cap hit of $1.285 million according to capgeek.com.
"We are pleased to have re-signed Karl Alzner to a two-year contract," Capitals GM George McPhee said. "We feel he's an important part of our defensive core who logs critical minutes against other teams' top player
With the signing of Alzner, that brings the Caps to 23 players under contract, but more importantly puts them over the salary cap of $64.3 million by almost $900,000. This will have to be taken care of by the start of the regular season and what the Capitals seem likely to do is put defenseman Tom Poti on the long-term injury list as he recovers from a groin injury he sustained.
Getting Alzner back in the fold was pretty imperative for the Caps after the 22-year-old had a very solid season on the blue line for Washington. Last season he played in all 82 games scoring two goals with 10 assists, but scoring isn't his game. He also blocked 132 shots (third on the team) and placed seventh in hits with 98 all while recording a plus-14 on the season while averaging 20 minutes of ice time.
The No. 5 overall selection in the 2007 draft figures to be a rock for the back line for the Capitals for years as they transform into a more well-rounded team instead of one that scores, scores and scores some more as it had previously played.
For more Capitals news, click here.
Photo: Getty Images
For more hockey news, rumors and analysis, follow @cbssportsnhl and @BrianStubitsNHL on Twitter.