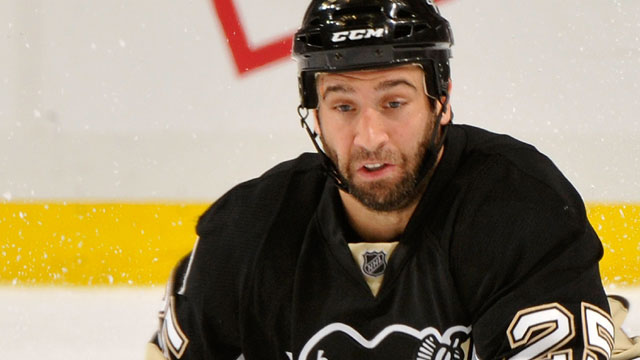 The Flyers have taken another former Penguin; they have signed center Maxime Talbot during a furious Friday, free-agent frenzy.
Earlier in the day the Flyers signed Jaromir Jagr, who was believed to be favoring a return to Pittsburgh -- the place he began his NHL career.
Philadelphia didn't figure to be much in the way of a big player in free agency considering they were already approaching the cap ceiling. But they still found enough room to sign Jagr and Talbot in addition to signing Andreas Lilja away from Anaheim and re-signing Jakub Voracek, who they acquired in a trade for Jeff Carter.
Talbot's deal is for five years and $9 million, according to Darren Dreger on TSN.
If you thought the Flyers-Penguins rivalry was heated before, just wait until they play next. The Flyers are trying to re-tool the roster after making room for goaltender Ilya Bryzgalov, and I'd say they've done just that. The two signings today both pretty much came out of left field and the Flyers will end this week the same way they ended the last: as the most talked-about team in hockey.
Talbot scored eight goals and had 13 assists for the Penguins last season.
By Brian Stubits
Photo: Getty Images

Click here for more free-agency updates.

For more hockey news, rumors and analysis, follow @cbssportsnhl and @BrianStubitsNHL on Twitter.