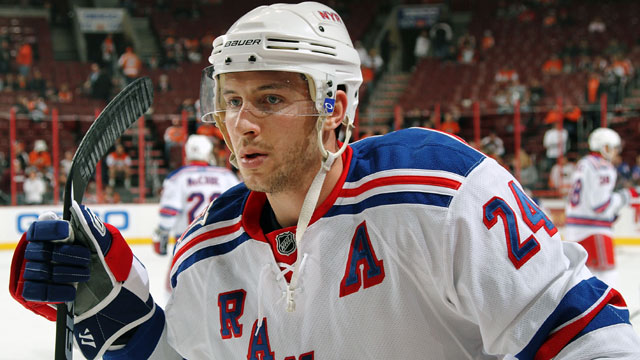 The New York Rangers have reached a deal with alternate captain Ryan Callahan, avoiding an arbitration date for the second time in as many weeks with one of their young players.
Nick Kypreos of Sportsnet says the deal is for three years, $12.825 million. That would be a cap hit of $4.275 million.
"We were both working out three, four and five year deals and I think we agreed the numbers worked for a three-year deal," Callahan told the Record. "We couldn't come to a conclusion on a longer deal."
Just last week the Rangers gave Brandon Dubinsky a four-year deal worth $16.8 million, avoiding arbitration there.
The deal comes just when pessimism was starting to seep in that a deal would be done before tomorrow's meeting. Just yesterday it was being reported that no progress had been made in the negotiations. Again, nothing like a date with an arbiter to serve as a nice kick in the rear.
After chasing (and ultimately landing) Brad Richards on the free-agent market, getting their four restricted free agents back in the fold was priority No. 2 for the Blueshirts. Mission accomplished. They also re-upped Artem Anisimov and Brian Boyle, helping them keep intact a very nice young core.
Callahan was in the middle of a very nice season for the Rangers when he broke his ankle and had to sit out the remainder of the season, including the playoffs. Before that, however, he had 23 goals and 25 assists in 60 games, his highest point total in five NHL seasons.
"I'm thrilled to be back for three years," Callahan added. "I love playing for the Rangers. I'm excited to be back and to have this behind me and concentrate on the season. I was hoping it would get done but you never really know how it's going to go in these negotiations. I definitely didn't want to go to arbitration and only go on a one-year deal. I'm really happy it didn't have to come to that."
If he comes back fully healthy -- and there is no reason to believe he won't -- he will likely remain on the second line where he will probably be joined by Dubinsky at center after Richards' arrival. With that, New York has the makings of a solid pair of lines to try and give Henrik Lundqvist a little more scoring support to play with.
Photo: Getty Images
For more hockey news, rumors and analysis, follow @cbssportsnhl and @BrianStubitsNHL on Twitter.