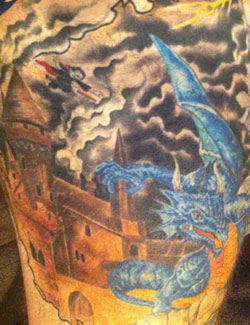 Brent Burns likes tattoos. He's one of the league's most tatted up players. Among his list of likes, you can add Harry Potter.
The new San Jose Sharks defenseman acquired from the Minnesota Wild this offseason recently acquired something of his own: a tattoo of Hogwarts plastered across his entire back, complete with a dragon and a flying sorcerer (I'm guessing that's Harry Potter, I admit to not having seen any of the movies).
The picture comes courtesy of Burns' own Twitter account, where he explained that he is a huge fan of the books, adding the hash tag #hogwartslooksfun. Looks a little scary for a Muggle like me.
I'm not a terribly big fan of tattoos and already admitted not being a fan of Harry Potter, but this one doesn't strike me as something awful. Especially after taking a look at a couple posts from our friends over at the Eye on Basketball blog of NBA players Andrei Kirilenko and his creepy back tat and also Monta Ellis' tree on his belly/chest.
It takes some serious devotion to get an ink blot that big on your back. It would be interesting to see what he thinks of it many years from now. Of course if it brings he and the Sharks enough magic to finally break through and hoist the Stanley Cup, he'll consider it worth it.
Hat-tip: Larry Brown Sports
For more hockey news, rumors and analysis, follow @EyeOnHockey and @BrianStubitsNHL on Twitter.