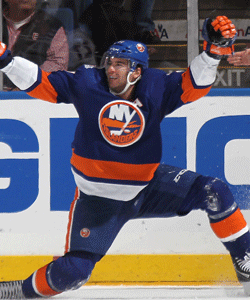 I wonder how Taylor Hall feels this morning? Saturday was a banner night for two of the past three No. 1 overall draft picks. But at least Hall had a good view for half of it.
First, it was John Tavares. the No. 1 selection in the 2009 draft is scorching hot at the moment for the Islanders. Tavares had a hat trick as the Isles took down the Rangers in a New York showdown. For J.T., it marked his second consecutive four-point game that included five goals.
At this rate, maybe Tavares should do the negotiating for a new arena on Long Island. Right now, he can't miss.
Now step over here for the latest showing in Premature Theater: are the Islanders the best of the New York-area teams? Since losing on opening night to the Florida Panthers 2-0 with some boo birds in attendance, it's been mostly smooth sailing for the young bunch.
They have won three in a row, beating the Wild, Lightning and Rangers. They're goaltending has been surprisingly solid with Al Montoya and Evgeni Nabokov. We saw surprising simply because this team was carrying three goalies on the active roster as of a few days ago and not many foresaw Montoya being the No. 1. The offense is showing the promise many people see; largely Tavares can be a superstar and he has some good players around him.
This is the point where we remind ourselves it's only the second weekend of the year. Of course Tavares won't score four points every night. But the Islanders have been taking steps the last two seasons and the signs were there for a breakout, just nobody could see how it happened in a division with the Penguins, Flyers, Rangers and Devils. So far so good.
Not to be outdone
On to the other star of the night. That would be the No. 1 overall pick in this year's draft, Ryan Nugent-Hopkins of the Oilers. I'm starting to think maybe the scouting reports had him all wrong. I'm not talking about the knocks on his size, either, but the fact that he is a play-maker. I'd say he's making plays right now, goal-scoring plays.
The Nuge as some have already come to call him, netted his first hat trick of his career in the Oilers' 4-3 loss to the Canucks. So yea, in only his third career game, Nugent-Hopkins wrangled up a hat trick against Roberto Luongo and the defending Western Conference champions. This comes after his game-tying goal in the final minutes against the Penguins in his NHL debut helped Edmonton to a season-opening two points.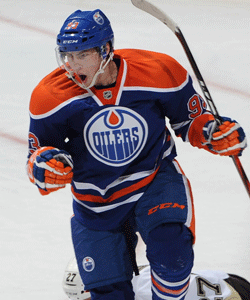 But Hall isn't feeling too bad. After all, he had a solid rookie campaign himself last season and he's enjoying the spoils of Nugent-Hopkins' great start by playing on the same line. He has assisted on three of Nugent-Hopkins' four goals this season.
That giddy giggling you hear is coming out of Edmonton, where visions of sugarplums dance in their heads at the idea of Hall and Nugent-Hopkins playing on the same line for years to come. Throw in a healthy Ales Hemsky and you have as exciting and talented a young line as you'll find in hockey.
It's still going to take some time, but this might be the season where the Oilers begin to show that improvement. Of course if they don't, I can't imagine Edmonton would feel too bad with a shot at top draft prospect Nail Yakupov.
Phillin' it
Oh, and this Phil Kessel fella is pretty good too. The Toronto Maple Leafs are one of three unbeaten teams remaining in the NHL with a 3-0-0 record (the Capitals and Red Wings the others) and Phil Kessel has been a monster in that start.
Kessel is tied with Tavares and Pittsburgh's James Neal for the league lead in goals (five) and tied with Tavares and David Legwand in points (eight) despite playing in only three games.
Maybe that trade isn't looking that awful anymore.
What's that feeling in Toronto? Optimism? Nice to meet you again.
If a tree falls in the woods ...
The Dallas Stars are 4-1, but not many people in the Metroplex have been around to see it. In their home win on Saturday night against the Columbus Blue Jackets, the announced attendance was 8,305. That followed up attendance numbers of 6,306 vs. the Coyotes and 7,949 against the Blues.
Now I understand full well that there is a certain other team that is stealing the spotlight in Dallas right now in the Texas Rangers. A World Series run is not easy to compete against. But those numbers are still awfully low, especially this early in the season with a team playing so well.
I'll give Dallas a pass for another week or so until the Rangers' run is done, but with young stars like Loui Eriksson, Jamie Benn and Mike Ribeiro, I have no doubt the Stars can surprise a lot of people this year and keep that up.
Jetting back
It was like an awkward family reunion when the Coyotes hosted the Winnipeg Jets on Saturday night. And it was only fitting that Shane Doan did damage against his "old team" with two assists on the night.
But the intriguing part was the dynamic in the stands. Among the crowd were plenty of Jets fans to see the long-lost brothers battle on the ice. However, Phoenix did a pretty darn good job of keeping them quiet.
"Everybody always talks about we have games when there's a lot of visiting fans in there," Phoenix coach Dave Tippett said. "But what it does is really feed on the emotion of the building because you get some visiting fans in there cheering that really puts a burr in your fans' butt. I thought our fans did a great job tonight. Believe me, I had visions of hearing 'Let's go Jets' a lot more than we heard tonight."
As for Winnipeg, you start to wonder what it will take to win a game. Maybe it's adjusting to life in Winnipeg now, a sense of entitlement as coach Claude Noel hinted at ("It looks like our team thinks we have a free pass to fail."), or none of the above. Either way, there is lots of work to be done.
Hangover Part II
The last two Stanley Cup champions danced in Chicago on Saturday night, and it was the defending champs getting the best of the battle.
The Bruins needed a shootout to get by the Blackhawks in the the preseason Finals pick of your's truly. It was a goal from Nathan Horton that got them there.
Maybe this can be the smelling salts that wakes Horton and the Bruins from their slow start to the season.
Dirty or not?
We could make this a daily feature with the microscope that is being put on his in the NHL these days.
Here's a clip of a hit from the Capitals' Matt Hendricks on the Senators' Colin Greening. This one drew a good amount of attention on Saturday as people were wondering if this would lead to Brendan Shanahan's first in-season suspesion for a hit to the heads that didn't include a stick.
To me it seems Hendricks comes at the hit high, but doesn't specifically target the head. However the high follow through with the elbow going sky high doesn't help make the hit look good. In the end, I would think this doesn't get any more attention and is instead categorized a good hit.
Have a look for yourself (from Washington Times, Japer's Rink)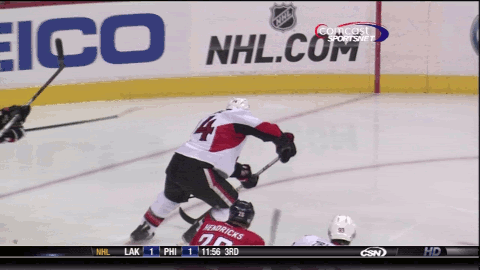 Photos: Getty Images
For more hockey news, rumors and analysis, follow @EyeOnHockey and @BrianStubitsNHL on Twitter.