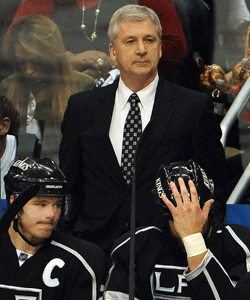 There have already been four coaches fired this season in the NHL. According to the L.A. Times a fifth could be coming this week.
The report in the Times says the Kings are preparing to fire coach Terry Murray. There is no replacement lined up, so the job would likely go to assistant John Stevens on an interim basis.
At no point were the Kings expected to be fourth in their own division -- which has been subpar as a whole -- and 12th in the Western Conference. Moreover, even with the defensive style that Murray runs, the Kings really have no business being the worst team in the league at scoring. Their 2.24 goals per game is the lowest in the NHL, even below Anaheim.
An offensive cast of Mike Richards, Anze Kopitar, Simon Gagne, Dustin Brown, Justin Williams, Jarret Stoll and Dustin Penner supported by Drew Doughty and Jack Johnson should be scoring more. Jonathan Quick can only stop so many shots.
Here is what Brown told the Times over the weekend about the way the team has been playing of late.
"We have to be more desperate right now. We have to be more desperate the rest of the year," Brown said Saturday. "We aren't playing with enough intensity or enough desperation. We are a good team and now we are not playing like one."
That never is a ringing endorsement for a coach. Fair or not, players not playing up to their potential will always fall on the bench boss' shoulders. We've seen it a few times already this season. When a team isn't living up to its potential -- or at least the potential that everybody thinks they have -- it's going to be time for the coach to go.
Fair or not, that's the way it works in sports. It's funny to me that in most professions, if the employees aren't getting the job done, it's them who will be fired. Obviously the world of contracts and high-priced ones at that alter the dynamics, so the manager takes the fall.
Adding to the confounding nature of L.A.'s start, so far they have only played 11 road games compared to 18 at home. You wouldn't figure that bodes too well for a team that would like to catch up in the standings.
But the good news for any new coach that takes over in the case Murray is fired? Despite being 12th place in the Western Conference, the Kings are only three points behind the Dallas Stars and Phoenix Coyotes for the Pacific Division lead. That doesn't fit anybody's definition of insurmountable.
Photo: Getty Images
For more hockey news, rumors and analysis, follow @EyeOnHockey and @BrianStubitsNHL on Twitter.