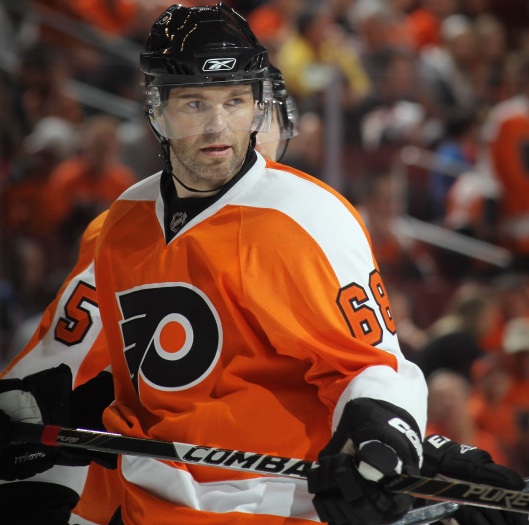 By: Adam Gretz
PITTSBURGH --
Jaromir Jagr
heard the boos everybody expected him to hear on Thursday night in Pittsburgh.
They were at their peak in the opening minutes of the game, and at times were deafening whenever he touched the puck, or, heck, had any sort of noticeable impact on the game. This was not a surprise. He's heard it from the
Penguins
fans every time he's returned to Pittsburgh in an opposing sweater, and this time he was doing it in the orange and black of Pittsburgh's biggest rival after deciding to sign with them instead of making a return trip to the Penguins over the summer during what was a free agency gong show.
He did his part to silence the boos on Thursday, and by the time the third period rolled around, with the
Flyers
well on their way to a 4-2 win and a key two points in the standings, they were definitely more subdued.
Jagr was arguably the best player on the ice from start to finish, scoring a goal, generating a number of scoring chances and even making a defensive play early in the first period that robbed Penguins forward
James Neal
of what looked to be a sure goal. And that was the play that seemed to make Jagr smile the most in the locker room after the game when it was brought to his attention during what was his third different media scrum. He not only laughed, but also made it a point to call several media members back into the room and told them to remember that play when it comes to their Selke vote at the end of the season.
"Guys when you go to vote for Selke," Jagr laughed. "Selke. Right here."
"Somebody says I don't backcheck, show them that clip. I think it was the best play of my hockey career, I've never been so close to my own net. I have to go tell coach."
He was clearly joking about it being the best play of his career (the own net comment can probably be up for some debate), but it was definitely a pivotal play early in the game and kept the Penguins off the board. It was just one of a number of highlight reel plays made by him over the course of the game, including his 12th goal of the season and numerous other scoring chances. He finished the game with two shots on goal while attempting five others, and some of his best chances were on the plays that didn't result in a goal or even a shot.
More on Jaromir Jagr, Flyers
During a shift early in the first period, for example, he was twice left wide open in front, only to whiff on one pass and fire a second one through the goal crease. Later he had another prime scoring opportunity on an odd-man rush as he took a pass between the circles and let go a quick wrist shot that was gloved out of the air by Penguins goalie
Marc-Andre Fleury
.
"I had so many chances today," said Jagr. "I think I probably had the most chances I had in any game I played this season. I probably could have had five goals if I would be good player. Fifteen years ago I would have scored five. Not anymore. That's the difference between Jagr now and Jagr 15 years ago."
In kind of a sour mood on Wednesday during his first interactions with the Pittsburgh media, Jagr was clearly more relaxed on Thursday night. Scoring a goal and getting a win probably didn't hurt. But this night wasn't just about Jagr's return to Pittsburgh or his legacy among Penguins fans.
Again, he's been back several times as a member of the Washinton
Capitals
and New York
Rangers
.
That wasn't true for Max Talbot. Thursday's game was the very first time he played in Pittsburgh as a member of another team.
Talbot, of course, spent the first six years of his career with the Penguins and played a major role in some of the team's biggest games over the past four years. He was a playoff hero during the 2009 Stanley Cup run when he fought then-Flyers forward
Daniel Carcillo
during Game 6 of the conference quarterfinals and then made his now-famous gesture to the Flyers crowd, while he also scored the Penguins' only two goals in their Game 7 win against Detroit in the Stanley Cup Finals. He was not only a key role player on the Penguins' bottom two lines, he also scored five Stanley Cup Finals goals during the 2008 and 2009 postseasons, each one seemingly bigger than the one before.
While it was obvious as to what sort of reception Jagr was going to receive, there was quite a debate before the game as to how Talbot would be welcomed. He was a popular player, as well as an important one, but he too signed with the Pittsburgh's chief rival, inking a five-year contract the same day the Flyers added Jagr. During a video tribute early in the first period there was initially some boos, before he was ultimately given a standing ovation. Of course, he too scored a goal for the Flyers, clinching the win with an empty net goal late in the third period.
"I knew I was going to have a little tribute," said Talbot. "But when the puck dropped I totally forgot about it so I was kind of surprised by it."
For more hockey news, rumors and analysis, follow @EyeOnHockey and @agretz on Twitter.