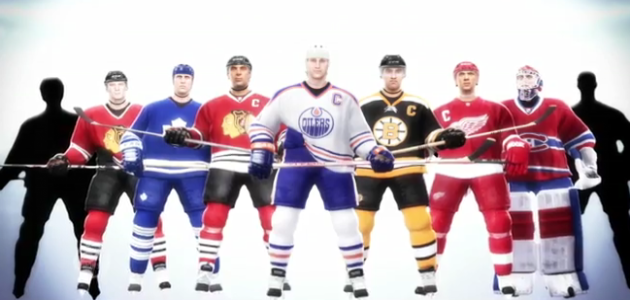 By: Adam Gretz
Last week EA Sports
announced the first three players that will be included
in the NHL '12 legends feature, and they were Wayne Gretzky, Ray Bourque and Chris Chelios. On Wednesday a few more names were revealed, including Patrick Roy, who appears to be the only goaltender among the nine legends, Steve Yzerman and, yes, Jeremy Roenick. It also appears that former Toronto
Maple Leafs
defenseman Borje Salming will be in the game, even though his name hasn't officially been announced (
he appeared in a video featuring Yzerman
).
The announcement of Roenick comes just one day after he showed up
in a video reenacting the classic Swingers scene
that included his dominating appearance in earlier versions of the EA Sports hockey games. I suggested Roenick last week not knowing he was actually going to be included (and yes, I am happy he's included).
The selection of Roy is probably expected, and it's not really a shock to see Yzerman included as well (the trailer even shows him a Tampa Bay
Lightning
uniform skating next to
Steven Stamkos
). The surprising name appears to be Salming. He was an excellent player for the Maple Leafs in the 1970s and 80s, and was probably one of the first European players to become a star in the NHL. He's a Hockey Hall of Famer (class of 1996) and had four straight seasons with at least 71 points between 1976 and 1980, so it's not like he wasn't an important player, or an outstanding one. But it's still a surprising addition. Heck, if you told me a former Maple Leafs player from Sweden was going to be in the game, Salming wouldn't have been my first guess (that would have been Mats Sundin).
Check out the trailer featuring Roenick and Roy
over at EA Sports
. There are still two more legends to be named.
Photo: EA SportsFor more hockey news, rumors and analysis, follow @EyeOnHockey and @agretz on Twitter.