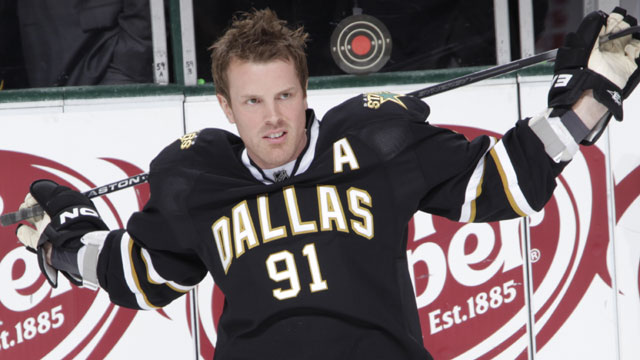 You ever see a fish feeding frenzy? When the fish basically jump on top of each other to get the food first? That's what free agency will look like because of the dearth of big fish to be found, to mix our metaphors.
There is no doubt who the most coveted free agent is this season. Brad Richards tops all names up for grabs and pretty much every team is likely to show some interest in signing the former Stars center.
Richard expects to be a busy man come Friday, according to his agent, Pat Morris, who spoke to Buffalo radio station WGR 550 on Wednesday.
"If five teams call, I'd be shocked by the limited number. If 25 teams called, I wouldn't be shocked," Morris said.
Perhaps the first ring will come from the Rangers, who seem to be the team most coveting Richards. They would love to find a center who can score to anchor the first line with Marian Gaborik. Just a reminder, though: veteran newcomers don't always work out so well for the Blueshirts, just think of Scott Gomez and Chris Drury.
If Rangers GM Glen Sather isn't first to get in touch with Richards, then it could very well be Brian Burke and Toronto. The Leafs are hungry to get back to the playoffs after a lengthy drought by the organization's standards (six seasons). Richards grew up a Leafs fan, so that has helped drive speculation in Ontario. But honestly a massive chunk of the NHL players grew up Maple Leafs fans, so that means next to nothing.
His former team in Tampa Bay, the Sabres in Buffalo, and even the Flyers are potential suitors, too.
Frankly, any team that has enough room to sign Richards will probably be standing with food in hand, hoping to get the hook, line and sinker on the best player to be had.
Here are this year's best forward options (in alphabetical order).

Sean Bergenheim -- Lightning: Before the postseason, Bergenheim would have likely re-signed quietly with the Lightning after a modest 14-goal, 15-assist season. But he busted out in a big way during the playoffs, scoring nine goals in 16 games. Since then he has turned down an offer from Tampa Bay with GM Steve Yzerman commenting that the two sides obviously see Bergenheim's value a little differently. At this point it looks like he'll be playing elsewhere.

Erik Cole -- Hurricanes: Cole has been a near lifer in Carolina, spending all but a part of his nine seasons in the red of the 'Canes (he was sent to Edmonton and then promptly reacquired by Carolina). He enters free agency coming off a 26-goal, 26-assist campaign, more than attractive numbers. Carolina GM Jim Rutherford would still like to re-sign Cole and keep him around longer, but at this point they haven't been able to find common ground. Carolina is still the odds-on favorite, though.

Simon Gagne -- Lightning: Gagne is coming off a 17-goal, 23-assist season in Tampa Bay, his first with the Lightning. It wasn't long ago that Gagne was a 40-goal scorer for the Flyers, last hitting that mark in 2006-07. It isn't as if he's too old to still flash that form at 31, but the concern might be in the injury department, specifically concussion concerns. Could be worth a shot from a team looking for scoring on the wings.

Jussi Jokinen -- Hurricanes: Another player Rutherford has said he's not sure if he'll be able to re-sign but wants to, Jokinen should draw a good amount of interest if Carolina can't lock him up. The last two seasons for the 'Canes he has surpassed 50 points, highlighted by a 30-goal, 35-assist campaign in 2009-10. (June 30: Re-signed with Hurricanes for three years, $9 million)

Ville Leino -- Flyers: The 27-year-old Fin is coming off his best season in the NHL, scoring 19 goals with 34 assists on the heels of his 21-point postseason when the Flyers went to the Cup Finals. There is no question the Flyers would like to have him back, but it's a matter of if they can have him back. The Flyers are still reportedly eyeing RFA Steven Stamkos, so Leino could be left in the lurch and snagged by another team while Philly chases that option.

Richards -- Stars: Richards is a true No. 1 center. Last season in 72 games for the Stars he tallied 77 points on 28 goals and 49 assists. The mystery isn't who will be interested in Richards, it's who will Richards be interested in? He will likely have his pick of the litter, from his old stomping grounds in Tampa to New York or Chicago.

Michael Ryder -- Bruins: The 31-year-old Ryder hasn't made the best impression in the world in either Montreal or Boston, the two stomping grounds in his career. However, the guy has scoring ability, hitting the 25-goal plateau in four of his seven NHL seasons, including 38 as a rookie.

Maxime Talbot -- Penguins: Talbot isn't the highest-scoring center you'll find (just eight goals and 13 assists last season) but he has earned a reputation as a postseason performer, which never hurts. The Maple Leafs have shown interest in Talbot since it became clear he wouldn't be returning to Pittsburgh and seem the most likely destination at this point.

Scottie Upshall -- Blue Jackets: Smack dab in the middle of his prime at 27, Upshall has plenty of talent to draw interest. He hasn't found the perfect spot for himself in either Columbus or any of the spots before. But each of the past four seasons has seen his goal total rise, hitting 22 last season for the Jackets. Once concern is that last season was the first time he played 75 games (he played all 82).
Others of interest: Jason Arnott (WAS), Tomas Fleischmann (COL), Radim Vrbata (PHO), Joel Ward (NSH), Marcel Goc (NSH), Raffi Torres (VAN), John Madden (MIN), Andrew Brunette (MIN), Tim Connolly (BUF)
By Brian Stubits
Photo: Getty Images
For more hockey news, rumors and analysis, follow @cbssportsnhl and @BrianStubitsNHL on Twitter.