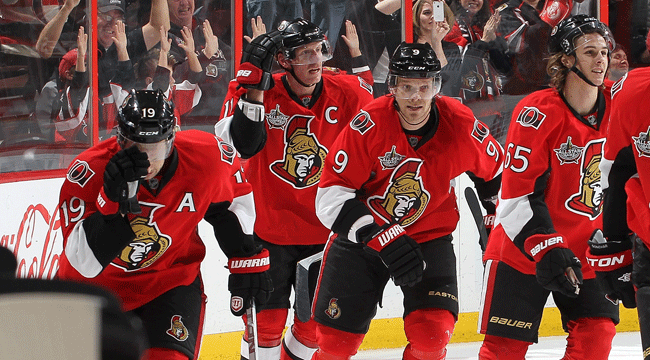 Like other sports, the NHL allows fans to vote players into the All-Star Game. Like other sports, the fans get it horribly wrong.
The NHL announced the "starters" for this month's All-Star Game in Ottawa, and not surprisingly it is very Senators friendly. While they aren't really starters for the game, they are all voted in for six guaranteed spots. The vote-ins are as follows:
Forward: Jason Spezza, Daniel Alfredsson, Milan Michalek, all from the Senators.
Defense: Erik Karlsson (Senators) and Dion Phaneuf (Toronto Maple Leafs).
Goaltender: Tim Thomas (Boston Bruins).
That's some impressive ballot-stuffing by the fine folks of Ottawa.
In all honesty, none of the four Sens voted in are completely undeserving of their place in the game. Karlsson has a legit claim to being a vote-in, he leads all defensemen in points and is second in the NHL with 32 assists. Michalek (19 goals) and Spezza (40 points) are both having quality seasons and Alfredsson, well, let's say he sort of deserves a spot at this point when the game is played in Ottawa. But the guaranteed spots? I'm not so sure about that.
Look at it this way: None of the league's top seven goal scorers or top 10 in points was voted in.
Of course, this isn't a big deal. It's the fans voting in six of 42 spots on the team and the hometown fans putting their players in the game. If that's their prerogative, then so be it. They're going to be the ones buying the tickets to the game. If they want to see guys they can watch at home 41 times a season for one more game, that's their right.
At least the fans got it right on Thomas. Craig Anderson was just too tough to vote in to the game, even if he tends for the Sens.
But have no fear. Claude Giroux, Daniel Sedin, Henrik Sedin, Steven Stamkos, Phil Kessel, Marian Gaborik, Jonathan Toews, Jimmy Howard, Evgeni Malkin ... they'll all get put in the game if they want to play. They'll be in the draft that will be held once again as captains will pick sides like a schoolyard kickball game.
However the first thought I had when I heard the list (OK, second after remembering to not get all hot and bothered by the hometown players getting in) was to remember the Project Mayhem and how well that worked. Remember the idea where fans were going to vote in all the former Senators tearing it up in the NHL to show Ottawa what they've been missing? Guys like Zdeno Chara -- who should still make it regardless -- and Dany Heatley? How'd that work out?
I don't think these vote-in results will have much of an impact on the All-Star Game viewership. It's hard to find people who actually like it to begin with.
Photo: Getty Images
For more hockey news, rumors and analysis, follow @EyeOnHockey and @BrianStubitsNHL on Twitter.