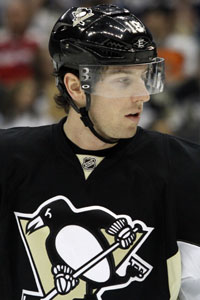 Neal has 27 goals this season, 13 on the power play. (Getty Images)
It took way too long in almost everybody's estimation, but James Neal was finally named an All-Star on Wednesday. He was given a spot in the game thanks to Alex Ovechkin abstaining after his suspension.
From the moment the All-Stars were announced, people immediately wondered why the Penguins' leading goal scorer wasn't on the list. As of Wednesday, he's only tied with Jonathan Toews for the second most goals in the league with 27.
"We thought he was an All-Star when they first named the team," coach Dan Bylsma said on Tuesday.
Better late than never, I suppose.
It's funny to me how people feign disinterest in the All-Star Game but then get worked up when players don't get the nod to play in it. Neal's exclusion put that whole idea on display.
Neal gets the late addition to the game the day after Scott Hartnell had the same happen with him, replacing Jonathan Toews. Both players are in the top 10 in goal scoring this season and were seen as probably the two biggest omissions to the initial list. Circumstances allowed that to be corrected.
Neal will now join Evgeni Malkin and Kris Letang as representing the Penguins in Ottawa.
More from Eye on Hockey
Ovechkin withdraws from All-Star Game
Hartnell replaces Toews for game
More All-Star Game coverage
For more hockey news, rumors and analysis, follow @EyeOnHockey and @BrianStubitsNHL on Twitter.