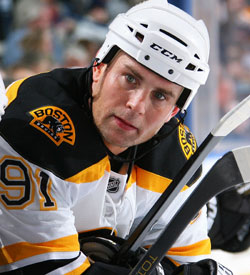 Here's some welcome good news for Marc Savard, who could possibly have played his last game in the NHL due to concussion issues: he's going to have his name etched into the Stanley Cup after all.
General manager Peter Chiarelli said Monday at the team's charity golf tournament that Savard's name will be inscribed on the trophy with his teammates.
Savard, who played just 25 games because of post-concussion syndrome, didn't meet the minimum requirement of 41 games played to appear on the Cup, but Chiarelli insisted he would petition the league to have Savard's name added. Apparently he was convincing.
He did get the greatest perk in sports already despite not being on the Cup, getting a day all to himself to spend with the prized trophy.
Chiarelli announced two weeks ago that Savard is unlikely to play at all next season, so he won't be able to help the B's defend the Cup. Moreover, Chiarelli says the team isn't counting on Savard ever playing again.
If the Bruins GM is correct and Savard is finished, he'll go out a champion, and he'll be able to point to the Cup to prove it.
Also Monday, Bruins forward Nathan Horton, who was injured during the Stanley Cup finals against Vancouver, said he is skating again and ready for the start of training camp this week.
Photo: Getty Images
The Associated Press contributed to this report

For more hockey news, rumors and analysis, follow @EyeOnHockey and @BrianStubitsNHL on Twitter.