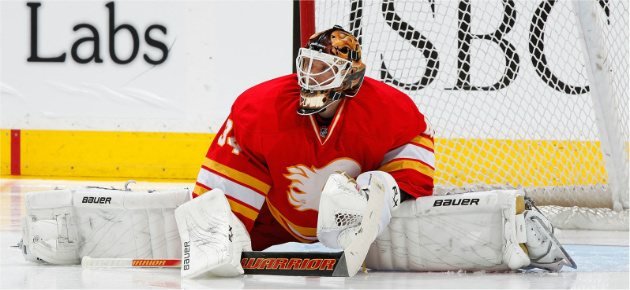 By: Adam Gretz
When Calgary
Flames
general manager Jay Feaster
took part in a question and answer session with fans a couple of weeks ago
one of the topics that was discussed was whether or not starting goaltender
Miikka Kiprusoff
would be asked to start over 70 games again.
Kiprusoff, who was acquired by the Flames during the 2003-04 season and helped lead the team to the Stanley Cup Final that year, has been one of the most durable goaltenders in the NHL in the years since, starting no fewer than 70 games in each of the past six seasons.
Since the NHL came out of the lockout in 2005, no goalie has started more games than Kiprusoff's 442, while the only other player to start more than 400 over that stretch has been Vancouver's
Roberto Luongo
with 401. Only 13 have started more than 300, and Kiprusoff is the only goalie to start at least 70 games in each of the past six seasons. That's asking a lot of any goaltender given how physically and mentally demanding the position is, and it's possible that it's starting to wear on the soon-to-be 35-year-old goalie.
Feaster admitted that
it's unlikely that Kiprusoff will be asked to carry such a heavy workload this season
, which means a few more starts for backup
Henrik Karlsson
. And that may not be a bad thing for the Flames, as Kiprusoff's play has declined a bit in recent years with a save percentage below .907 in four of the past five years, including this past season.
Take a look at a quick breakdown of his save percentage by situation (even strength and on the penalty kill) compared to the league average in each of the past fives seasons. Notice how in many cases it's been either right around or below the league average:
Miikka Kiprusoff vs. The League
Year
Kiprusoff ES SV%
League Avg. ES SV%
Kiprusoff PK SV%
League Avg. PK SV%
2010-11
.916
.920
.859
.875
2009-10
.928
.919
.879
.873
2008-09
.907
.918
.898
.867
2007-08
.919
.919
.857
.867
2006-07
.932
.916
.865
.865
His even strength and penalty kill numbers have been average to below average in three of the past five years. Is this just the typical decline that goes with being a goaltender in his mid-30's? Or is it the result of an almost unheard of workload? It's possible that it's simply a combination of the two.
Kiprusoff's durability has been admirable for a goaltender, but his level of play no longer warrants him getting that many starts over the course of the season. The concern, of course, is whether or not Karlsson can give the Flames a quality backup, and there isn't much of an NHL track record to go on. The 27-year-old has started just 11 games in his brief career, all of which came last season.
Overall, his save percentage of .908 was a marginal improvement over the .906 mark Kiprusoff posted, but was significantly worse in even strength situations (.916 to .905).
That also doesn't take into account the fact that Karlsson, as the backup, was getting his starts against lesser competition and also picking up some playing time off the bench in relief of Kiprusoff whenever he was lifted early from a game.
Here is the list of teams that Karlsson started against last season:
Columbus, Colorado, New Jersey, Minnesota, Anaheim, Columbus, New York
Islanders
, Ottawa, Dallas, Phoenix, Vancouver
His save percentage in those starts: .904
Not exactly a list of the NHL's power house offensive teams last season. Only two of those teams qualified for playoffs (Anaheim and Vancouver), while only three finished in the top-half of the league in goals, with only one finishing in the top-10: Vancouver (1), Anaheim (11) and Phoenix (14).
So while the numbers look comparable, it's important to keep in mind that Karlsson was doing it against some of the worst offensive teams in the NHL.
The position should be a point of concern for Flames fans given Kiprusoff's decline, the fact he is signed for another three seasons at a cap hit of just under $6 million,
one of the largest in the league among goaltenders
, and the backup behind him is, at this point, still a bit of a question mark.
Photo: Getty Images
For more hockey news, rumors and analysis, follow @EyeOnHockey and @agretz on Twitter.