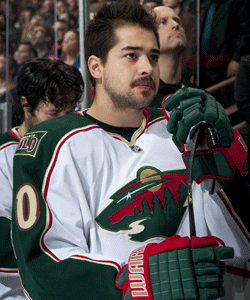 Somehow, the Minnesota Wild keep on winning. Outshot by the San Jose Sharks 42-21 in San Jose? No problem, Mike Yeo's team leaves the Bay Area with a 2-1 win. Losing a couple more key players to injury? We'll see if they can overcome that, too.
While they came out with the two points against the Sharks on Tuesday night, they didn't make it out of the Tank with two healthy goalies or a ready-to-go Devin Setoguchi. First on the former Shark, Setoguchi, from Michael Russo of the Minneapolis Star-Tribune.
But now the bad news: Devin Setoguchi looks like he suffered a serious right leg injury. I think knee, but we will see. He was wearing a soft cast on his right leg under his pants after the game, limping badly and being consoled by folks.

Yeo had no update after the game, but I'm sure we'll get one Wednesday. This will be the second consecutive visit the Wild lost a top-6 forward in San Jose. Guillaume Latendresse has missed 13 games with a concussion since being here.
If it's as bad as Russo thinks it might be, it's a tough blow for the Wild, who are still hanging strong atop the NHL standings. Setoguchi was acquired in one of a handful of trades this offseason between the Wild and Sharks. On the season thus far he has eight goals and five assists for Minnesota.
Amazingly, his eight goals are tied for the team high along with Dany Heatley, Matt Cullen, Kyle Brodziak and Cal Clutterbuck, all of which makes this success for the Wild seem all the more unlikely. Two games shy of 30, the NHL's top team doesn't have a double-digit goal scorer. Only Clutterbuck, with 26 games played, is on pace to score more than 25 goals this season.
A large part of the success, then, has been coming from the defense, particularly the goaltending. The combination of Niklas Backstrom and Josh Harding has been stellar this season. The problem is, at this moment neither appears to be healthy. Backstrom was already out with a lower-body injury, so it compounded matters when Harding had to leave Tuesday's game with what might have been a concussion, or possibly a neck injury. It was a little friendly fire as he was hit in the head by Nick Schultz in the opening minutes of the game.
That brought on Matt Hackett, who was superb. He was unbeatable, stopping all 34 shots by the Sharks in his first NHL appearance. If the kid can play like that a couple more times, the Wild will have some tough choices to make. But for the moment, it's an amazing luxury to have when goalies are going down.
Next thing you know the Wild are going to bring in a 51-year-old beer league goalie or something.
Photo: Getty Images
For more hockey news, rumors and analysis, follow @EyeOnHockey and @BrianStubitsNHL on Twitter.