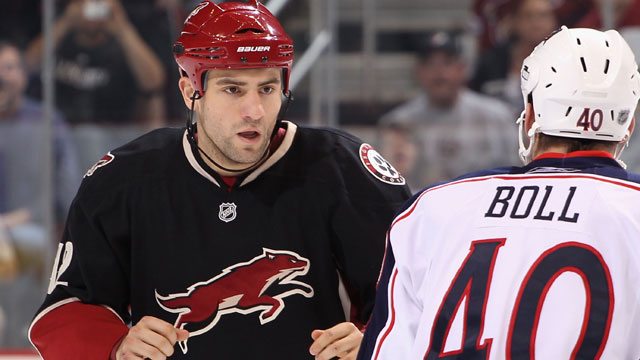 Phoenix Coyotes fourth-line forward Paul Bissonnette has made a name of himself on Twitter (@BizNasty2point0), cracking the CBSSports.com Twitter 140 earlier this month. He's funny, a touch crude and all in all a great follow.
He showed exactly what makes him popular in the Twittersphere when he spread his reach into the fashion television world this week. He was a guest on the Marilyn Denis Show to discuss women's trends that men hate. And apparently "spitting some game" at one of the models.
Watch the highlights of the

segment here (video via TSN.ca).
Leave it to Bissonnette to turn a subject that would normally bore 95 percent of hockey fans into a must-watch. Bissonnette's takes on such things as the maxi dress and other "in" fashions for women are honest and, as expected, pretty hysterical. Not surprisingly, he admits to having a discussion with his buddy Sean Avery before coming on as Avery is a known fashion enthusiast when he isn't forcing the NHL to make rules in his (dis)honor.
Bissonnette's awkward moment comes near the end of the segment when the host asks him who his seventh grade teacher was and he gets it wrong, only to find out his teacher is in the studio audience.
Photo: Getty Images
For more hockey news, rumors and analysis, follow @cbssportsnhl and @BrianStubitsNHL on Twitter.