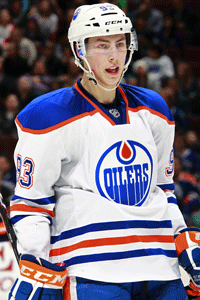 Edmonton Oilers rookie and Calder Trophy favorite Ryan Nugent-Hopkins has been out of the lineup recently, nursing a sore shoulder. The team announced on Thursday that he's going to be out a bit longer, like 3-4 weeks.
The No. 1 pick in last summer's draft, Nugent-Hopkins was a hit from Day 1. There was a little debate from the Oilers whether or not they were going to keep him around, but it didn't really revolve around his talent level. That was evident. When he earned his spot with the team, the talent became clear to the rest of the league.
In the 38 games that he has played for the Oilers this season he has amassed 35 points (13-22=35). He has been particularly strong on the power play where he has posted 18 points, one behind Florida's Brian Campbell for the most in the NHL on the man advantage.
About the only knock that people could come up with for Nugent-Hopkins as an NHL-ready player was his size. There was some concern that his small frame wouldn't hold up that well playing in the NHL. This is the first even small sign of that in his young career.
Edmonton was quick out of the gate this season, spurred on by their young talents including Nugent-Hopkins and 2010's No. 1 draft pick Taylor Hall. They have since come back to the reality that their future is bright, but the present isn't as much. They are currently mired in a 2-8-0 stretch in their last 10 games and the absence of Nugent-Hopkins isn't going to help.
This likely means it's back to the draft lottery for the Oilers at the end of this season, which isn't the worst thing in the world for a franchise that's building toward a championship roster via the draft.
Also, will this month of inaction cost Nugent-Hopkins the Calder Trophy? That will bear watching for the award-inclined fans.
Photo: Getty Images
For more hockey news, rumors and analysis, follow @EyeOnHockey and @BrianStubitsNHL on Twitter.