This could be interesting. For people who like boring hockey, this Saturday's game in Philadelphia could be just for you.
Now that we've really sold the game, let me clarify. This weekend the Tampa Bay Lightning and Philadelphia Flyers will meet for the second time this season. And for some reason, the first game was a bit memorable -- or forgettable, depending on your viewpoint.
Who can forget when the Flyers refused to play into the Lightning's 1-3-1 trap and the Lightning refused to forecheck? What resulted was the biggest stalemate heard 'round the hockey world. Since then there have been discussions about the validity of Tampa Bay's defensive system. Should it even be allowed?
Here's a refresher on what that looked like.
Of course that's all silly talk. It obviously isn't hurting teams from scoring against the Lightning. The Bolts enter the weekend have surrendered the third-most goals in the Eastern Conference.
I highly doubt we'll see a replay of that ugly display in Tampa Bay from earlier this season, especially if Peter Laviolette wises up and remembers he has arguably the most explosive offense in the game. It's not the time to over-coach when you have Claude Giroux on your team.
There were a lot of questions about the Flyers entering this season. Would Ilya Bryzgalov be the missing piece? Can Jaromir Jagr still perform at a high level? (The answers are still undetermined and unequivocally yes).
But the one that everybody wondered about the most was who, exactly, was going to replace the scoring load that was carried by Jeff Carter and Mike Richards? Some assumed it would be James van Riemsdyk, others thought Danny Briere. I think the most popular answer, though, would have been Claude Giroux.
Well those folks were right, but I'm not sure they knew how right they would be.
Not only is Giroux leading the Flyers in points (by 14, no less), he leads the entire NHL in that category, passing early leader Phil Kessel.
It's a bit insulting to call this a breakout season for Giroux, after all, he did have 76 points last season, but it is just that. His 16 goals through just 27 games already brings him within 10 his career-best 25 one season ago. He's on pace for close to 100 points.
Oh, and he's only 23 (he turns 24 in January).
So here's a bit of a plea to Laviolette: let your offense go. Teams aren't having trouble scoring against the Lightning (the goalies share a good chunk of that blame, too). That's a particularly good idea with Giroux around.
Then again ...
"We might sit there for four or five minutes at a time," Laviolette was quoted as saying.
Be prepared for another night of non-action.
Oh my Michalek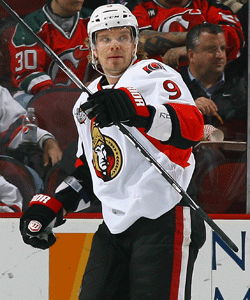 Phil Kessel has received a lot of the early season headlines for his goal scoring. Jonathan Toews and Steven Stamkos haven't been getting the same amount of pub, but people know about their scoring prowess too.
Alex Ovechkin has received a lot of talk too, but for his lack of goal scoring.
So I'd like to take this opportunity to take this little light of mine, I'm going to let it shine, this time on the NHL's goal-scoring leader, Milan Michalek of the Ottawa Senators.
Maybe it's because he plays all the way up in Ottawa. Perhaps it's because the Senators had such low expectations this season. Whatever the reason, the player the Senators acquired in the Dany Heatley trade is blossoming into a major player and there's little attention being paid to him.
Michalek gets a bigger stage to make an impression on Saturday when the Sens will host the Vancouver Canucks on Hockey Night in Canada.
How Wild is this?
The Minnesota Wild are the best team in the NHL based on the standings. It's impossible to give them enough credit right now.
Especially when they head to Phoenix having won six games in a row and completing the California sweep for the first time in franchise history.
Before the season began, how many people really, truly believed that when these teams met on Dec. 9, they would both be in first place in their respective divisions? That's simply ... wild.
Is there any doubt who the front-runner is for the Jack Adams Award in the NHL right now? Sure, Kevin Dineen of the Panthers has to be in the conversation, but as of this moment it's clearly Mike Yeo on the Minnesota bench.
Not even injuries have been slowing his team down. Lose two goaltenders? No problem. Just call up Matt Hackett from the AHL to make his NHL debut and watch him go more than five periods before allowing a goal. Have a defense few people outside of Minnesota can't recognize? No worries. The Wild are still incredibly stingy when it comes to giving up goals.
Pretty soon, people won't be able to ignore the Wild, no matter how much they might try.
Return of the matinee (and Kaberle)
Now that the college football season is done -- seems as convenient a reason as any -- Saturday matinees are returning to the NHL schedule. Last week it was the Canadiens visiting the Kings. This week it's again the Canadiens, this time visiting the Devils.
The game will also be the debut of Tomas Kaberle with the Canadiens. After being traded to Montreal on Friday for Jaroslav Spacek, this will be Kaberle's first opportunity to change the minds of fans of his new team: that he doesn't stink.
That's going to be a hard task, considering the view of Kaberle league-wide is so low. You know it's bad when a GM who signed you a few months ago essentially admits to it being a mistake.
It's also big for Jacques Martin, the Habs coach. The talk surrounding his job security had died down after the Habs had appeared to right the ship, but it's starting to leak again. And with that, people are wondering about Martin's status once anew. Beating the Devils, a team they are battling with at the bottom of the playoff picture right now, would be a helpful start.
We're going streaking!
These are your streaks at play going into the weekend.
Flyers: The Flyers enter Saturday's game with the Bolts having won four straight.
Florida Panthers: People are still stunned by them, and they take a three-game run into Buffalo and then, if it survives, Madison Square Garden on Sunday.
Winnipeg Jets: Yes, another Southeast Division team. The Jets are starting to make a push to stay relevant all season and have won three in a row. Their weekend consists of a game vs. the Hurricanes and at the Red Wings.
Wild: No team is playing better than Minnesota in the NHL. None. As mentioned, they head to Phoenix with a six-game win streak in hand.
Vancouver Canucks: Don't look now, but the defending Western Conference champs are starting to roll. Their streak is three games going into Ottawa.
Los Angeles Kings: They are the only team who come into the weekend with a losing streak in the works. They'll have a chance to snap that against the Stars on Saturday.
Photo: Getty Images
For more hockey news, rumors and analysis, follow @EyeOnHockey and @BrianStubitsNHL on Twitter.