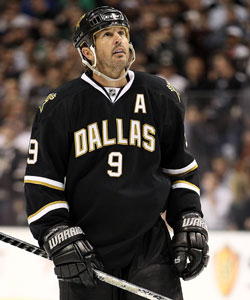 Mike Modano removed any suspense (ok, there was very little) from his playing future by announcing his retirement on Wednesday.
He made the announcement in a most unusual way. He tweeted on his new account that he started up last week that he had an announcement on his future, sending followers to a link to his Facebook page making the declaration his career is over. Such are the times in which we live.
Here's what his statement had to say.
"After a long summer of thinking about my future, I've come to the decision that it's time to retire as a player from the NHL. There's way too many people to thank here at this time and too much to say, so I have a press conference scheduled for early Friday afternoon. Check back Friday late afternoon for more. What a great ride it's been!"
Modano played his entire career with the Stars organization except his final one, which he spent in his hometown of Detroit with the Red Wings. The seven-time All-Star finishes his career with 561 goals (a career-high 50 in the Stars' first season in Dallas back in 1993-94) and 813 assists.
The No. 1 overall pick in the 1988 NHL Entry Draft, Modano will go down as the greatest American scorer in history. Needless to say, there won't be any discussion on if he is Hall of Fame bound or not; he can prepare his speech now.
He also has the honor of retiring having hoisted the Stanley Cup with the Stars in 1999.
The thing about Modano was that he was more than a great player, he was the face of a franchise. Fans in Dallas have done a good job latching on to hockey since the Stars moved to the South, with Modano being the focal point. His is a jersey that will forever be viewed as a timeless classic among Dallas hockey fans, something they can wear forever.
The impression he helped make in Texas was felt this year at the draft when Texas-born Stefan Noesen was selected in the first round by the Senators. Heck, there has even been a push to get an NHL team in Houston. Texas will always be a football state with a lot vested in baseball and basketball, but there is room for hockey. Modano is a big reason why.
But moreover, his reach stretched across America, seeing as his place in American hockey history will be in the upper echelon, if not at the top (we aren't going to start that fight here, carry it out on the message boards if you want). Just check out what Ducks forward Bobby Ryan had to say earlier today on Twitter.
"Congrats to Mike Modano on a great career! The reason I picked number 9! What an awesome player, thanks for showing young Americans the way!"
If that doesn't say it all, not much will.
And for your next bar trivia game, he is also the last player to retire who played an NHL game in the 1980s.
Modano also had a brief cameo appearance in the 1992 hockey movie, The Mighty Ducks, along with former NHL player Basil McRae. Modano only had two lines in the movie: "Oh yeah, I thought you were a farmer," and "take it easy." Here's a clip from last season that featured Modano talking about his appearance in the movie, as well as the following it still has to this day.
Photo: Getty Images
For more hockey news, rumors and analysis, follow @EyeOnHockey and @BrianStubitsNHL on Twitter.