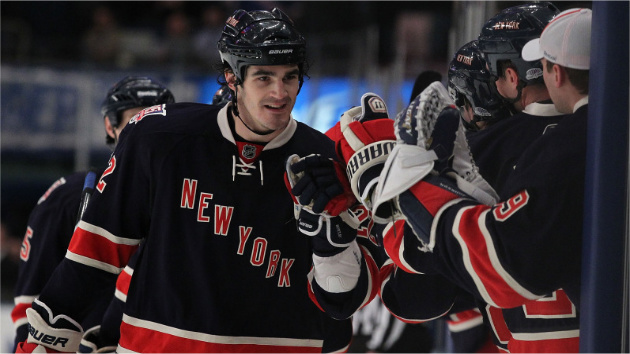 By: Adam Gretz
During the first three years of his career
Brian Boyle
registered just 12 goals and four assists in 107 games. Traded by the team that originally drafted him with the 26th overall pick in the 2003 draft (the Los Angeles
Kings
), Boyle ended up in New York after his second NHL season, and during the 2010-11 season the massive 6-foot-7, 240-pound forward found a way to put everything together on the ice.
His production exploded (at least when viewed in the context of the previous three seasons) with a 21-goal, 14-assist effort, and he managed to turn that into a nice little raise on Thursday.
A restricted free agent, Boyle had an arbitration hearing scheduled for July 25 but avoided it by
signing a new three-year contract
. The deal is
worth a reported $5.1 million overall
and carries an average annual salary of $1.7 million.
The encouraging thing about his 2010-11 performance, if you're the
Rangers
, is the situations he often found himself playing in. For one, only four of his 21 goals came on the power play, with the other 17 coming in even strength (16) or shorthanded (one). He saw plenty of time on a line with Ruslan Fedotenko and
Brandon Prust
, and the only Rangers forward
who started fewer shifts in the offensive zone
was Chris Drury. So it's not like he was piling up points on the man advantage or riding the coattails of a superstar forward on his line. He was scoring goals in tough situations. The obvious question is whether he can repeat that level of offensive play going forward.
Along with finding a way to put pucks in the net last season, he was also a physical presence (he led the team in hits), and he kills penalties and is a willing shot blocker. The total package turned out to be a fine player for the Rangers, and well worth the price they paid to acquire him (a third-round pick) before the 2009 season
The Rangers still have to work out contracts with their two biggest restricted free agents,
Ryan Callahan
and
Brandon Dubinsky
.
For more hockey news, rumors and analysis, follow @cbssportsnhl and @agretz on Twitter.