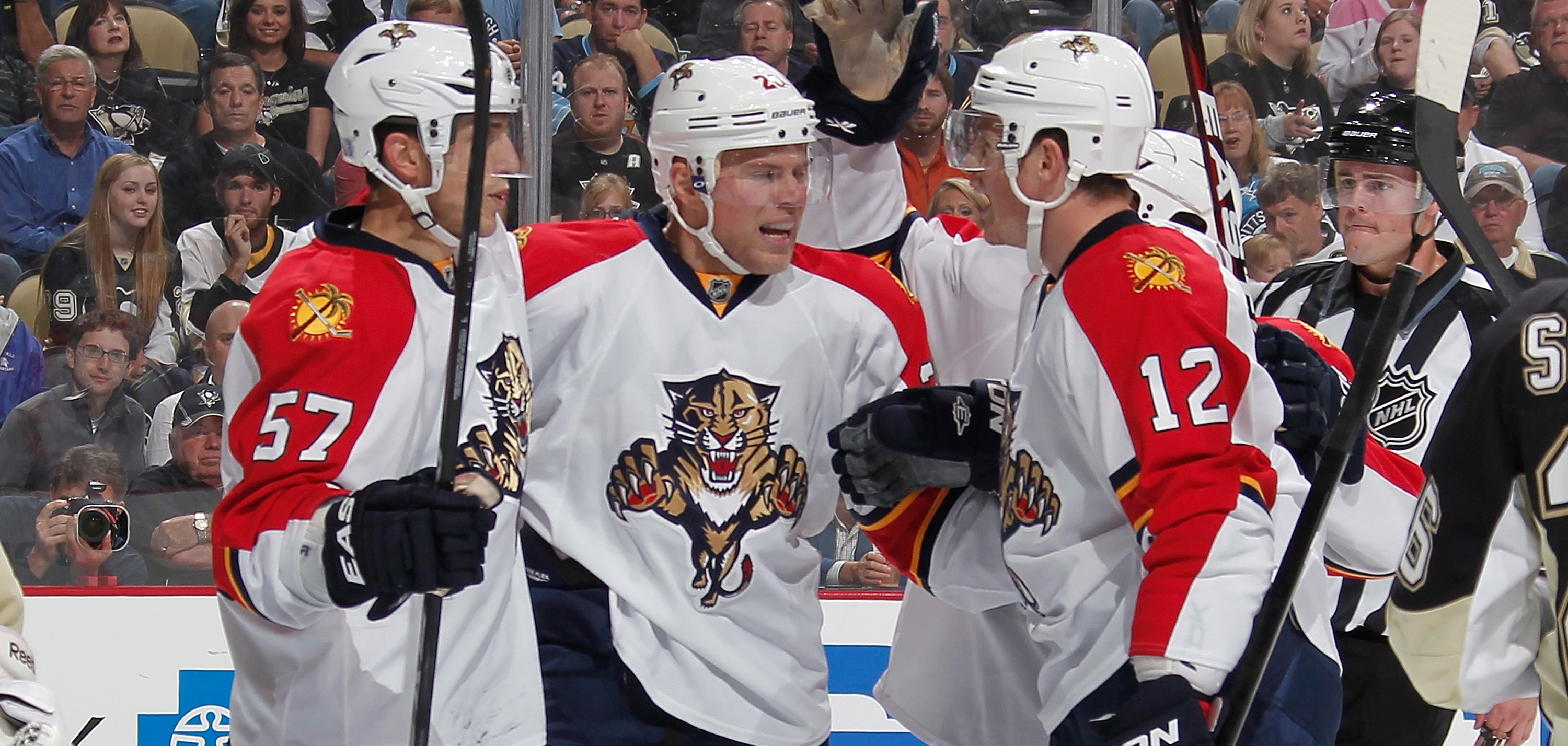 By: Adam Gretz
PITTSBURGH -- No team in the NHL went through a larger roster overhaul this past summer than the one orchestrated by Florida
Panthers
general manager Dale Tallon. From the head coach (Kevin Dineen) to as many as 10 new players in the lineup on any given night, this year's Panthers squad doesn't look anything like the team -- on paper -- that stumbled to a 30-40-12 record a year ago, and missed the playoffs for a 10th straight season.
The combination of being in a situation where spending money was a necessity due to their need to reach the NHL's salary floor, as well as being mired in the longest non-playoff streak in league history, meant drastic changes were on the way. And were they ever. Along with hiring Dineen to take control behind the bench, Tallon was the busiest general manager in the NHL this offseason when it came to the trade and free-agent markets.
Veteran defenseman
Brian Campbell
and his once thought to be untradeable contract was acquired in a trade with the Chicago
Blackhawks
.
Kris Versteeg
came over from the Philadelphia
Flyers
, and free agents
Scottie Upshall
,
Tomas Fleischmann
,
Sean Bergenheim
,
Marcel Goc
,
Tomas Kopecky
,
Jose Theodore
,
Ed Jovanovski
and
Matt Bradley
were signed to multi-year deals.
With so many new faces, as well as a new coaching staff, a new system, and an entirely new way of doing things, there is probably going to be some growing pains and bumps in the road. And through two games, a 2-0 win over the New York
Islanders
to open the season on Saturday, as well as a 4-2 loss in Pittsburgh on Tuesday night, things are still very much a work in progress for the Panthers.
"I thought we were stronger on Saturday," Dineen said following the loss on Tuesday. "We seemed to have more energy. I think we had our moments [on Tuesday], but it wasn't throughout the game and that's the way you have to play to have success."
It's not is if the Panthers played poorly throughout the game on Tuesday; they ended up finishing with a 34-29 edge in the shots department, while attempting 59 shots to Pittsburgh's 50. Still, there were some problems that need to be ironed out. Consistency and the power play being two of them, as well as their struggles to clear the crease and help get the puck away from new goaltender Jose Theodore after allowing the
Penguins
to score three goals from right in front of the net.
"We had our moments," said Dineen. "But we need more consistency to our game. It wasn't a complete game for us."
The power play, which featured Jovanovski and Campbell at the points, as well as Upshall and Fleischmann up front -- none of whom were on the team a year ago -- looked sloppy at times, finishing the night 0-for-5 while also giving up a game-changing shorthanded goal. And while there were periods of strong puck control in the offensive zone and some quality scoring chances, there were also periods of players appearing to be out of sync and not knowing where their linemates were going to be or what they were going to do. Case in point: a 3-on-1 rush in the second period when
Jack Skille
attempted a behind-the-back pass that ended up resulting in a missed opportunity.
"I found that part of our issue is that there were times we were very cute, and that doesn't always work," said Dineen. "It's fun to watch sometimes, but on a game like [Tuesday] where you can feel the momentum is still up for grabs, if you're starting to make those nice plays sometimes that's not the right choice. That's a good lesson for us that we need to stay with our program."
The Panthers, however, including Dineen, didn't want to blame any of their struggles on any perceived lack of chemistry.
"I'd love to blame it on that," Dineen said. "But I think that's just making sure we just bear down. Those are key moments in the game, and those pucks are just sitting around that crease, and I think they [Pittsburgh] scored three or four from right around there that you can't hang on Theo. There's a real possibility to get those things out and when they don't get out, and that's when ugly things happen to us."
Campbell, a 10-year veteran that owns a Stanley Cup ring thanks to his time with the Chicago Blackhawks, was a little more blunt and to the point when asked if the mistakes were a result of new players still working to get familiar with one another.
"We've all played hockey before," he said. "Everybody knows what they're doing. It's time to play hockey, it's the regular season and we have to be ready. I don't really believe in that stuff and I would hope that nobody else does."
Photo: Getty Images
For more hockey news, rumors and analysis, follow @EyeOnHockey and @agretz on Twitter.