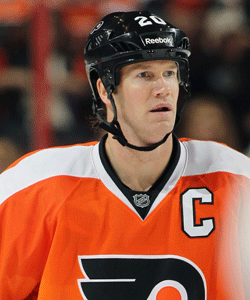 The Flyers are getting their captain back right on schedule.
Chris Pronger joined the rest of his team in Tuesday's morning skate and afterward Tim Panaccio of CSN Philadelphia concluded that it looks like Pronger is a go for Wednesday's game against the Lightning.
Well the team confimed as much on Wednesday, announcing Pronger
will be in the lineup
for the game in Tampa Bay.
Pronger has been out of the lineup since taking a stick to the eye Oct. 24 vs. the Maple Leafs. The original call was for Pronger to be out of the lineup for 2-3 weeks, a pretty accurate timetable it would appear.
When he returns to the ice Wednesday night, we'll have an unusual sight: Pronger with a visor. You might remember that he wasn't the first player to take a puck or stick to the face, but his was the one that reignited the debate about mandatory shields in hockey. They still aren't required by the NHL but for Pronger, it is being required by his GM Paul Holmgren, at least for the time being.
In their captain's absence, the Flyers have held their own pretty well, picking up seven of the eight possible points. Minus the first two games sans Pronger -- including a 9-8 loss to the Jets -- the Flyers have been able to stabilize themselves, largely through the offense. And here I thought they were going to rely more on defense this season after trading Jeff Carter and Mike Richards this summer.
Photo: Getty Images
For more hockey news, rumors and analysis, follow @EyeOnHockey and @BrianStubitsNHL on Twitter.