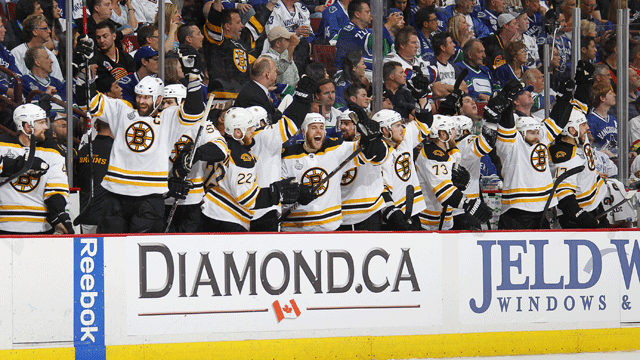 For the first time since the 1993-94 season began, the reigning champion resides in the Northeast Division after the Bruins ended their Cup drought with a thrilling run through the postseason. The even better news for Boston (but not so awesome for the rest of the division) is that the Bruins are back almost completely intact.
No team has repeated as Stanley Cup champions since the Red Wings in 1997 and 98. Only two other teams have made it back to the Finals a year after winning in that time, the Stars in 1999 then 2000 and once again the Red Wings (2008, 09). There's a reason for it, the fabled championship hangover.
But in hockey, I think it plays a bigger part than any other sport. The offseason is as short as it gets, the playoffs as long and grueling as any of the major sports. The Bruins lifted the Cup in the middle of June and reported back to camp in early September. All the while they were enjoying a whirlwind of a summer that included plenty of partying and celebrating a title. The Blackhawks admittedly struggled with it last season (although the roster being ripped apart didn't help matters). If only getting rid of it were as easy as taking a couple Tylenol and drinking Vitamin Water.
If they do look sluggish and lethargic to start the season then the Buffalo Sabres will be ready to pounce on the opportunity. They are hockey hungry in Buffalo these days with hope their Sabres can become power players in the East. As for the other three in the division, the East's Canadian coalition? Well they will all be hoping to resurrect their glory days.
You can't exactly count out the Canadiens and Maple Leafs from the division crown, but this likely is a two-horse race in the Northeast.
Now we'll just have to wait and see how the Bruins respondin their quest for another Cup.
Northeast Division (predicted order of finish)

Boston Bruins: Why mess with a good thing? That's an easy philosphy to live by when you are coming off of claiming the Stanley Cup. Really, the only new additions they have to work into the fold are Benoit Pouliot as a bottom-six forward and Joe Corvo on the blue line. With the solid support all around them of a close-knit group, they should be able to seamlessly slide in and fill the voids left by Tomas Kaberle, Mark Recchi and Michael Ryder, the only pieces to the championship puzzle missing.
One thing I'm not sure many people realize, but this team is very young in addition to being super talented. There are still five players just among the forwards who will be restricted free agents when their contracts run out. The defense is a bit more grizzled, however, and that's where a good chunk of the leadership comes from, of course including captain Zdeno Chara.
There might be a slight sense of urgency for the B's to repeat as champs as they will have a lot of work to do to keep the team together as 10 of their regulars don't have contracts beyond next season. But GM Peter Chiarelli seems to be preparing for that well, saving the B's cap space to maneuver.
Strengths: What's not to like? They are very balanced as 10 players had more than 40 points a season ago, although two of them have departed (Kaberle and Ryder). Defensively they have plenty of veteran presence and have been a very good unit under Claude Julien. Plus, you know, they have that fella named Chara.
Oh, and how can we make it this far without discussing the team's best player, Tim Thomas? He was simply superb last season and through the playoffs, posting the highest single-season save percentage in league history. It's not as if his backup is chopped liver, either, as Tuukka Rask will be expected to shoulder more of the load for the 38-year-old Thomas this year.
Weaknesses: Despite all of their success when five-on-five, Boston's special teams weren't up to snuff. Without much change in personnel, they are going to have to find a way from within to improve the 20th-ranked power play and 18th-best penalty kill units. The power play was a growing concern in the playoffs, which included an 0-for-21 streak in the opening round win over the Canadiens. They tried all sorts of remedies to fix it, including parking Chara in front of the net, but they found their groove late in the playoffs when Chara and his booming shot returned to the point. Their hope is that success will roll over.
After that, we're just getting picky here. There just aren't too many holes from a team that ranked in the top five both offensively and defensively last season and was the NHL's top plus/minus team. They will have the talk of a championship hangover looming over them for much of the season and they will have the proverbial target on their backs as the champs. Those are hurdles that will be new.

Buffalo Sabres: I'm not sure what fans in Buffalo are more excited about right now: the Bills' 3-0 start or the first full season under Terry Pegula? The Sabres' biggest (and richest) fan ushers in a new era that the fans are still trying to get used to, in a good way: Buffalo is a big spender now. Pegula will make sure of that as he is willing to put his money where his mouth is. And his mouth has expressed some awfully high expectations ... multiple championships.
On that note, the Sabres were active in the offseason, most notably signing Christian Ehrhoff and Ville Leino to augment the core group that Buffalo has built. But possibly the biggest acquisition they made was the less-heralded of them all, and that was bringing in Robyn Regehr. The stout defenseman should prove to be a great addition as he brings a lot of toughness and all-around defense. Not to mention he will serve as a good influence for assumed partner Tyler Myers, who is in line for a nice bounceback season with more talent with him on defense.
It almost feels like an acquisition, but the return of Derek Roy will be a big boost, too. The front-line center missed the second half of last season due to a quad injury.
Welcome to Pegulaville. Buffalo still can hardly believe it.
Strengths: There is obviously a strong leader, for one. That's a very nice asset to have an owner so willing to win. But beyond him, there's a reason why Buffalo has moved into the conversation to crack the home-ice equation in the East, the new faces likely will make a very good group even better. In particular, the addition of Ehrhoff to the league's ninth-ranked power-play unit will make the special-teams unit a real asset for the Sabres.
Like their division rivals in Boston, as talented as they are all over the ice, their best player probably sits in the blue paint all game long. Ryan Miller didn't have the greatest of seasons last year for Buffalo, but that tends to happen when you come off a Vezina-winning season ... there's only one direction to go. He's still one of the absolute best in the game.
Oh, and the slug logo is gone, wiped away for good. That's positive for everybody.
Weaknesses: The cap situation is a bit troubling. With Pegula's desire to spend, the Sabres actually exceeded the salary cap over the summer, so they will have to be extra diligent with how they manage the roster. Unfortunately, it doesn't leave them much room to try and make any improvements midseason if need be.
Overall, it's not a roster with many holes in it whatsoever. It will just come down to how talented the team proves to be as there are multiple players capable of 50-plus point seasons.

Montreal Canadiens: Last season, without Max Pacioretty or Andrei Markov, the Canadiens captured the six seed in the East and took the eventual champions to the brink. I'm sure this team, almost al of it remains in town, is still stewing over blowing a 2-game lead to its bitter rival in Boston.
I definitely like the signing of Erik Cole in July, he is a solid (and physical) forward who could prove to be one of the bigger acquisitions of the summer for any team. He adds to a good, but not great group of forwards. They are capable, but need to be better than 23rd-best in the league like a season ago.
Where the success of this team will likely hinge is on the blue line. They have a couple of excellent young talents in P.K. Subban and Markov and some solid players behind them like Josh Gorges and Hal Gill.
A few steps toward a return to form for Scott Gomez (just seven goals last season) wouldn't hurt eiher.
Strenghts: Special teams. Under Jacques Martin, the Habs have been good in both departments of special teams, ranking seventh in both phases a season ago. If Markov remains healthy, the power play remains lethal as Subban and him both are excellent with the man up.
It's pretty Wild the goaltending this division features. Like both teams above them here, the Habs have an oustanding man living in the crease. It took fans a while in Montreal, but they finally warmed up to Carey Price, who finally lived up to his expectations last season. Playing a 72-game work load, Price posted a 2.35 GAA and .923 save percentage. The trick will be doing it again, but the safe bet is that he turned a corner and an encore shouldn't be a problem.
Weaknesses: Let's be honest, having to rely on Gomez to anchor a top-six line after a 37-point season doesn't have overwhelming talent. It showed in their scoring totals from last season when they averaged 2.60 goals per game. Cole will help as he not only brings a power game (among the league leaders in hits for forwards) but he can score. They would love to see him at least match his 26 goals from a season ago, that would have been good for second on the team.
A major concern all season will rest on the blue line and the depth there. Adding Chris Campoli after camp began was a nice addition to help with the concern, but they still can't really afford for injuries to set in, particularly for Markov. They just invested in him with a rich contract this offseason, so they are counting on him returning at full strength from the ACL tear and remaining that way.

Toronto Maple Leafs: How much longer will the fans in Toronto put up with a team that can't make the playoffs? The postseason drought stretches back to the lockout as the Leafs have been on the outside each season since. The only other team in the same boat is Florida, and let's just say the fans in Toronto take their hockey a touch more seriously than those in the Sunshine State. There's hope that this could be the season where they break through and return to playoff hockey, but that's a tall order for this group still.
Over the summer, GM Brian Burke really coveted center Brad Richards, but his staff was unable to convince the top free agent to head to Toronto. So as a backup plan he signed Tim Connolly from Buffalo to anchor the team's top line. If healthy, a very big if, Connolly can prove to be a good addition, the Leafs had to get deeper at center. Also, I really liked the quiet addition of John-Michael Liles to the defense.
But not much else will matter if the goaltending situation isn't solved. That has been the achilles heel for years in Toronto, but they think -- or hope -- the answer lies in James Reimer in his first full season in the NHL.
Strengths: As you'd expect for a team built by Burke, they have become a physical bunch in Toronto. The team captain, Dion Phaneuf, is one of the toughest hitters in the league. But there is obviously a danger of that being a weakness if the team is getting sent to the sin bin (or being Shanabanned with the new emphasis on safety) too often.
The second line is probably good enough to be Toronto's No. 1 group. The combination of Clarke MacArthur, Mikhail Grabovski and Nikolai Kulemin placed second, third and fourth in the team scoring, respectively. Each had at least 21 goals.
Weaknesses: The problem is, the skill on the team doesn't go much deeper. Only six players on the team last year reached double digits in scoring. The fact is the Leafs have two lines that can hold up with most in the league, but the third and fourth lines are where they feel the drop.
The center position remains a concern. Sure, Connolly was brought in to help that and same with Matthew Lombardi, but you can't be sure what you are getting from either guy from a health standpoint. As mentioned, Connolly has a history of injury issues. He has only played more than 70 games once (2009-10) since the 2002-03 season. With Lombardi, he's coming off a concussion that cost him all but two games last season. If either or both goes down, then Toronto is right back to being razor thin down the middle.

Ottawa Senators: This is odd territory for the folks in Ottawa. Never in the franchise's history have they had to actually rebuild. Since originally building the team in the early 90s, the team had a long, successful run that included a trip to the Stanley Cup Final in 2006-07. A couple of the members from the old guard are still around -- Daniel Alfredsson and Jason Spezza, but the majority of the team is in place to win in the future, not necessarily now.
Expect to see a lot of the kids getting burn this season. It appears as though the team's top draft pick this summer, Sweedish center Mika Zibanejad, is going to make the team out of camp. Another coveted prospect, Jared Cowen, is also making a bid for the roster and join David Rundblad among the defensive corps. Nikita Filatov, who hadn't lived up to his perceived potential in Columbus, will also be given a shot to show what he can do. If he fits in and focuses on his game, his addition could prove to be a steal for Ottawa.
While new coach Paul MacLean and GM Bryan Murray are saying all the rights things about this team being competitive this season, it will serve as a good opportunity to get a glimpse of the future.
Strenghts: They didn't score much at all or play defense particularly well, but they were alright on special teams, particularly on the penalty kill, which ranked ninth in the league. Sergei Gonchar can help keep that ball rolling. That will qualify as a positive here.
We'll also throw goaltender Craig Anderson into the category. He wasn't spectacular last season split between Colorado and Ottawa, but he's shown before what he is capable of when he starred for the Avalanche two seasons ago. And his stint with the Sens was encouraging as he was 11-5-1 with his new team.
It speaks well for what is in the system that the team's AHL affiliate in Binghamton won the Calder Cup.
Weaknesses: This says a lot: No player that participated in more than 30 games for the Senators had a plus-rating last season. Chris Phillips was the lowest of them all at minus-35.
This team struggled mightily to score last season and that is unlikely to get easier this time around. Right now there just isn't a heck of a lot of talent to talk about. Spezza was the only player to top the 20-goal mark last year and he barely did so with 21.
The youth is a weakness for now as it will be error prone and show it is green, but the hope is that it turns into a strength down the line.
Photo: Getty Images
For more hockey news, rumors and analysis, follow @EyeOnHockey and @BrianStubitsNHL on Twitter.