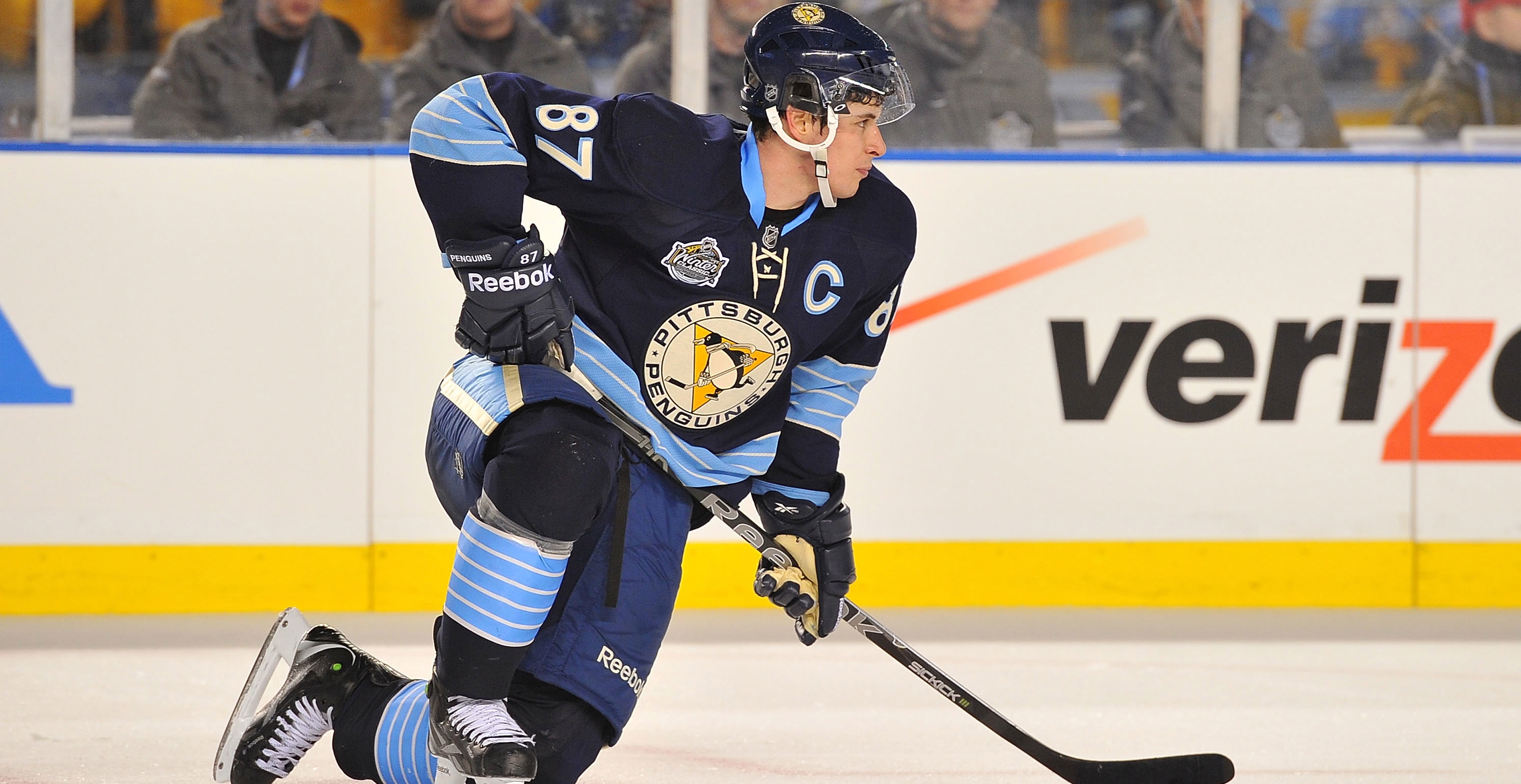 By: Adam Gretz
The biggest thing we're watching as the NHL gets ready to drop the puck on the 2011-12 season is when will
Penguins
captain
Sidney Crosby
be able return to the lineup?
The only answer to that question, of course, is simply "when he's ready," and not a moment sooner.
But when will that be?
That's the question we've been asking since January, and even though it appears to be getting closer, and optimism about his return is higher than it's ever been since he was knocked out of the lineup on Jan. 6, he's not going to be on the ice when the Penguins open up in Vancouver on Thursday night, and he isn't likely to be cleared for contact until Pittsburgh returns from its season-opening trek through western Canada.
Perhaps just as important as when he returns, is whether or not he'll be the same player he was before he left. Prior to the injury Crosby's game had evolved over the previous two seasons to the point where he went from being a great set-up man to the Penguins' go-to goal-scorer, as well as their No. 1 option in the face-off circle. When he left the Penguins' lineup last season he was in the middle of the best year of his career and was on a pace to shatter just about all of his previous career highs.
Not only due to the length of his absence from the game and from contact, but also because of the nature of the injury, there has to be a question of how quickly he'll be able to be that player again.
So that's the big story we're watching this year, and here the other 49 of our 50 things to know, ask and watch for during the 2010-11 season…
2. CBA Talks:
This likely won't be settled during the season, but it's still going to loom large and is the giant elephant sitting in the living room ready to make a huge stinking mess all over the couch and floor if you don't feed him on time. The NFL had its lockout come and go, missing only a couple of weeks of training camp and a meaningless preseason game, and the NBA lockout continues to roll on. And soon it will be the NHL's turn. The last time the league was in this situation we lost an entire season, so there's that to keep in mind. Meanwhile, Major League Baseball continues to have labor peace. What a strange world we live in.
3. Brendan Shanahan:
The first question we have is whether or not Brendan Shanahan will get tired of making those videos? (We hope the answer is no; because they're great). The second question is whether or not the suspensions will continue at the same torrid pace we saw in the preseason, or if that was simply the "message sending" phase? And if so, will the players get the message?
4. Player safety debates:
After a disturbingly dreadful summer that saw the untimely deaths of three young players, all of whom were fighters, the fighting debate reached an entirely new level, even though we don't know how -- or if -- the two were connected. Should all hits to the head be banned? Is no-touch icing long overdue? Crosby's concussion is the one everybody is talking about, but there's also
Matthew Lombardi
in Toronto and his recovery.
Marc Staal
, the top defenseman for the New York
Rangers
, is still having problems following the concussion he suffered late last season, and there's concern as to whether or not
Marc Savard
of the Boston
Bruins
will ever play in an NHL game again.
5. Winter Classic:
The highlight of the NHL's regular season schedule takes place in Philadelphia between two bitter rivals, the
Flyers
and Rangers, on Jan. 2. It's the first time a New York team has appeared in the game, and the Flyers host it for the first time after losing to Boston in overtime back in 2010. Last year's game in Pittsburgh featured unseasonable warmth and rain, forcing a delay and some miserable ice conditions. Here's hoping Eastern Pennsylvania gives us better weather.
6. Winnipeg Jets return:
The playoffs would be great for no other reason than to see a return of the Winnipeg Whiteout, but even though that seems like a long shot at this point their first taste of the NHL since 1996 should make every game at the MTS Centre have the feel of a Stanley Cup Final game.
7. Bruins repeat attempt:
Over the past 20 years we've only seen two teams repeat as Stanley Cup Champions -- the 1991 and 1992 Pittsburgh Penguins and the 1996 and 1997 Detroit
Red Wings
. The Bruins seem to have what it takes to return to the top of the NHL mountain.
8. Realignment decision:
The NHL hasnt gone through a divisional realignment in over a decade but it appears to be coming. Detroit wants to go to the East and claims that it's been promised that it will happen, and Winnipeg should be headed to the west. What other changes -- if any -- will we see?
9. Ryan Nugent-Hopkins:
The No. 1 overall pick in the June draft is starting the season with the Edmonton
Oilers
after a strong preseason effort. Is it simply a nine-game look before he gets sent back to his Junior team, or does he make it through the entire season with the big club? Recent history
is on his side for making a full-season stay with the Oilers
.
10. The NBA lockout:
No, this isn't specifically an NHL issue, but if the NBA lockout rolls into the regular season will the NHL gain more exposure because of it, and, perhaps more importantly, will the league be able to take advantage of that opportunity?
11. Life in Philly without Richards and Carter and with Bryzgalov:
After a revolving door of mediocre goaltending and an endless list of questions about the position over the years, the Philadelphia Flyers went all in on
Ilya Bryzgalov
. And now there are some questions about how they'll be able to score after trading
Mike Richards
and
Jeff Carter
.
12. Capitals' offensive/defensive balance:
Last season the Washington Capitals went from a run-and-gun offensive juggernaut to a defensive-minded team that went from 15th in goals allowed per game the previous season all the way up to fourth. Can they find the happy medium this season and finally get over the playoff hump?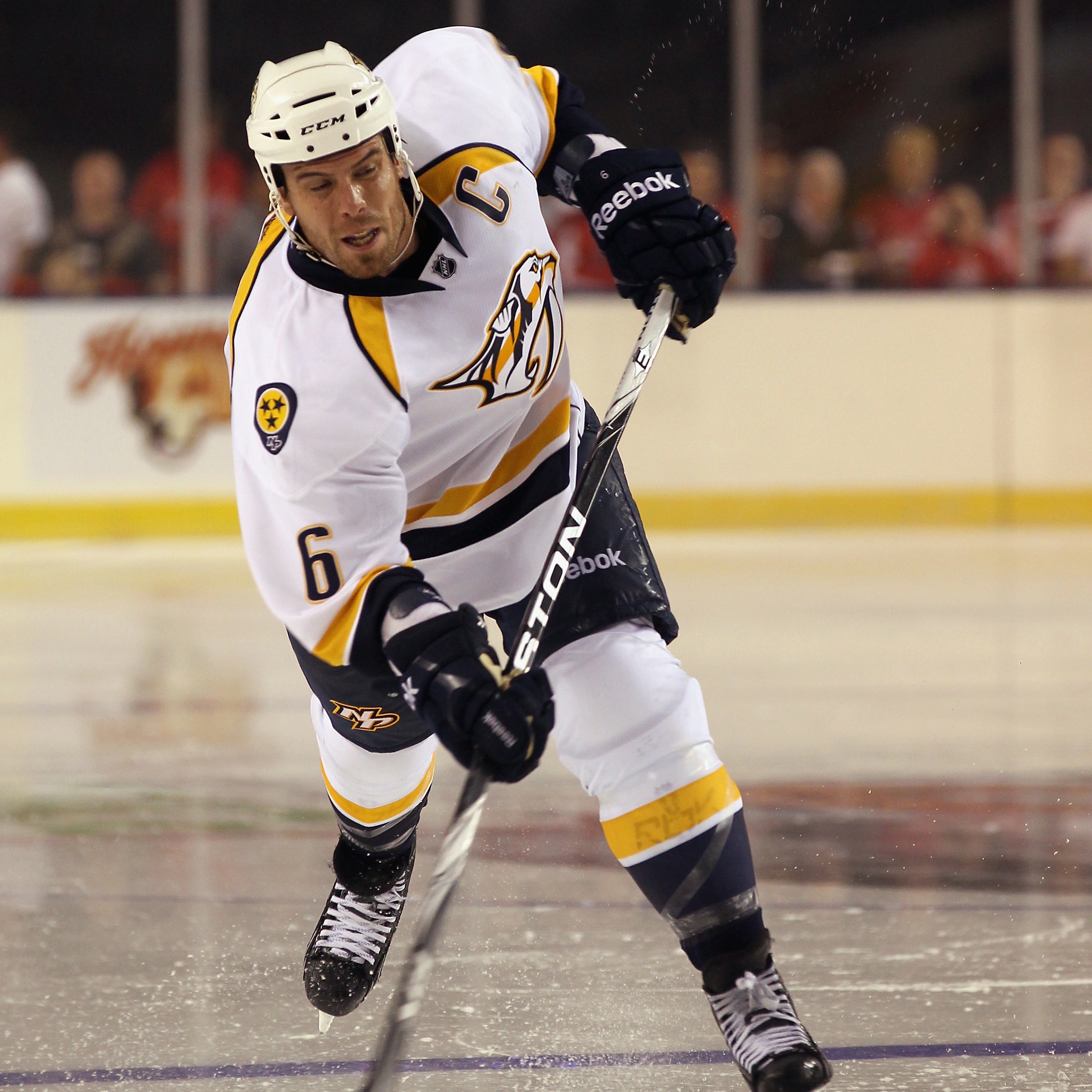 13. Nashville negotiations:
It took the arbitration process to get
Shea Weber
signed to a one-year deal, and he's up for restricted free agency again this offseason. Even worse for the
Predators
is the upcoming unrestricted free agency of
Ryan Suter
. And don't forget starting goaltender, and last year's runner-up in the Vezina voting,
Pekka Rinne
. Two big-time defensemen, a top goalie and three massive contract questions for one of the NHL's most efficient franchises.
14. Doughty's new dough:
Drew Doughty
is now the third highest paid defensemen in the NHL on a yearly basis, and that means he's going to be expected to play like one of the top defensemen in the NHL. He's shown he's capable of it in the past, but his production regressed a bit last season. When you're making over $7 million a year that can no longer happen.
15. Sales of Dallas, Phoenix and St. Louis:
We're still waiting for some sort of resolution to the three ownership sales that have dragged on for quite a while.
16. Year two of Boucher in Tampa Bay:
In his debut season Guy Boucher took the Tampa Bay
Lightning
to within one game of the Stanley Cup Finals, and that surely has expectations high for his second year on the job.
17. New-look Sharks:
Dany Heatley
and
Devin Setoguchi
are gone.
Martin Havlat
and
Brent Burns
are in. Either San Jose and Minnesota are swapping rosters one trade at a time, or the Sharks feel these are the moves that can finally get them to kick through the door that has been the Western Conference Finals.
18. Perry's encore:
OK, let's be honest, nobody had
Corey Perry
scoring 50 goals and leading the NHL last season, right? He's always been an excellent player -- and a frustrating one to play against, and an easy player to, let's say ... dislike, when he's not on your team-- but prior to last year he only topped the 30-goal mark once in his career. Logic says he returns closer to the 30-goal player he's always been. But logic also said he wouldn't score 50 goals last year.
19. Thomas, the Vezina and the Hart Trophy:
Bruins goaltender
Tim Thomas
has won the Vezina Trophy two of the past three years, and would have to be the early season favorite to win it again. He's also set his sights on another major NHL award: The Hart Trophy. That one is going to be tough simply because goalies don't typically win that award. It's only happened seven times in the history of the league, and only three times since the league expanded beyond six teams --
Jose Theodore
in 2002, and back-to-back wins for Dominik Hasek in 1997 and 1998.
20. First-year coaches:
Is there a Guy Boucher rookie success story among the NHL's new head coaches, including first-year guys like Minnesota's Mike Yeo, Florida's Kevin Dineen, Winnipeg's Claude Noel and Ottawa's Paul MacLean?
21. Pegula-ville:
Buffalo has always been a great hockey town, but these people are absolutely stoked about their new owner, and he went on a summer spending spree that topped just about every other team in the league. But will it pay off?
22. NHL starts in Europe:
The
Ducks
,
Sabres
, Rangers and
Kings
are all opening their season in Europe. Will one of these teams lift Lord Stanley's Cup at the end of the season? Fun fact: In each of the past three seasons a team that started its season overseas ended up winning the Stanley Cup -- Pittsburgh in 2008, Chicago in 2009 and Boston in 2010.
23. Brodeur's last hurrah?
Martin Brodeur
has accomplished just about everything a goaltender can accomplish as a hockey player, but will this be his final year in the NHL? Back in April
he hinted that it could be
.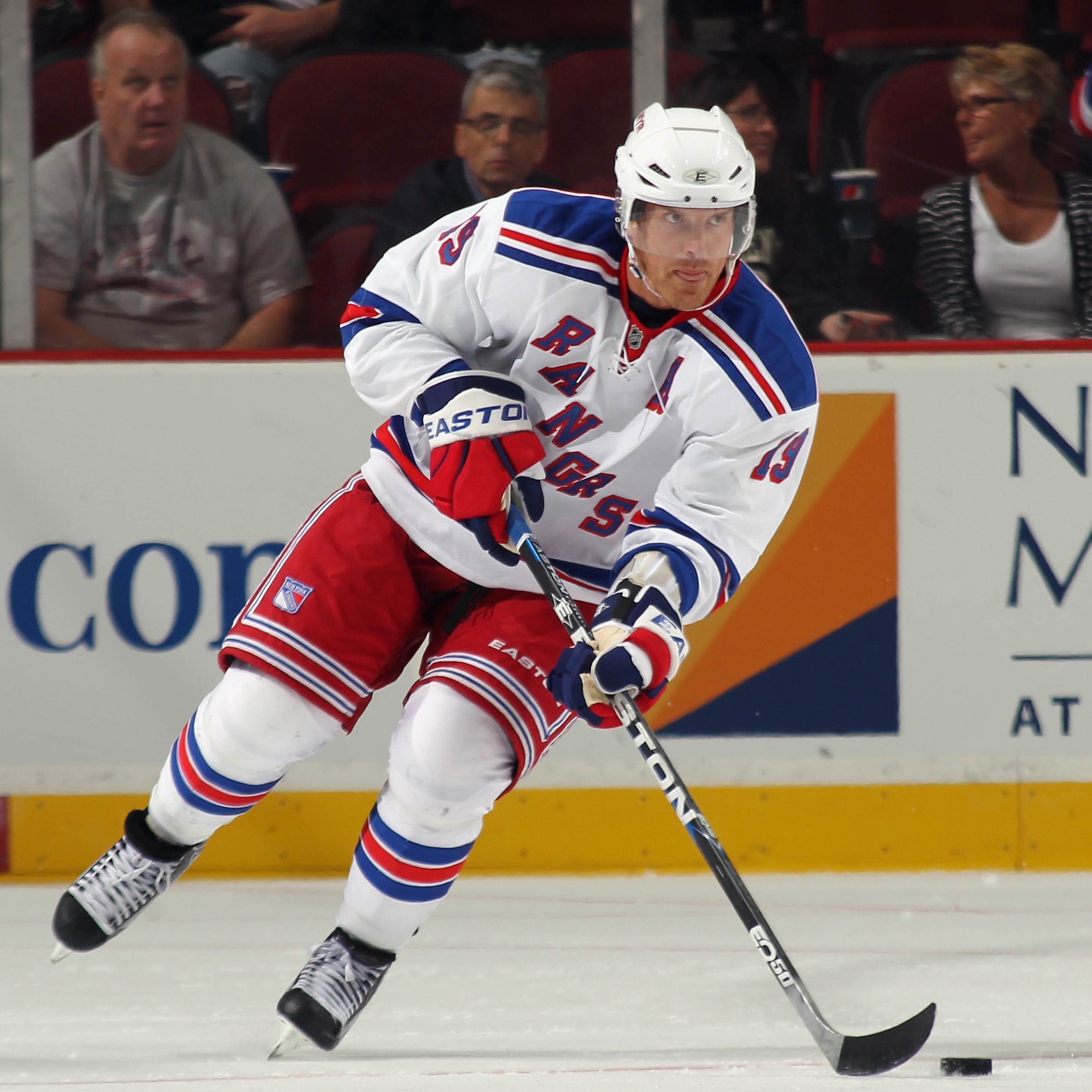 24. Rangers have a new star:
Hello,
Brad Richards
. You're the latest free agent savior of the New York Rangers! Actually, after so many free agency failures over the years this might be one signing that really does pay off for blue shirts in a big way.
25. Islanders arena situation:
What will come of the Islanders quest for a new -- and needed -- home? Is Brooklyn the answer?
26. Sophomore slumps:
Do you believe in the Sophomore jinx? Personally, I don't, but I am curious to see what Carolina's
Jeff Skinner
and San Jose's
Logan Couture
have to offer in year two.
27. New Panthers ... new results?
No team was busier this summer than the Florida Panthers, completely overhauling their roster, in part because they had to spend an obscene amount of money just to reach the NHL's salary cap floor. It's definitely a new team, but is it a better team? I guess that depends on how much faith you have in
Brian Campbell
,
Tomas Kopecky
and Scott Upshall.
28. How bad are the Senators?
On paper, it looks like it's going to be a long season for Ottawa as it celebrates its 20th year in the NHL, but how bad are we talking here? Simply on the outside of the playoff picture, or are we looking at a team that's competing for the worst mark in the NHL?
29. Breakthrough year for Kings:
After acquiring Mike Richards the Kings went from being a playoff team in the Western Conference to a legitimate Stanley Cup contender with the type of depth down the middle (Richards,
Anze Kopitar
and Jarett Stoll) a team needs to win it all.
30. Hiller's recovery from vertigo:
Jonas Hiller
says the vertigo symptoms that robbed him of a good portion of his season -- and the playoffs -- a year ago are gone, and the Ducks need that to be the case if they're going to make a push in the Western Conference. Hiller is one of the best goalies in the league and if he's 100 percent healthy can be a difference maker for Anaheim.
31. Heatley back on a top line:
Coming off one of the worst goal-scoring seasons of his career Dany Heatley gets a fresh start in Minnesota, and he's going to be relied on to be a top goal-scoring option for the
Wild
. Was last year the start of a decline in Heatley's career, or does he return to the 40-goal form we're used to seeing?
32. Will Detroit's defense be good enough?
The Red Wings defense has declined a bit in recent years, and this year they're looking to replace Brian Rafalski following his retirement.
Nicklas Lidstrom
still scores like a champ, but he's not getting any younger back there.
33. Is Matt Cooke a changed man?
Penguins agitator Matt Cooke claims he's a changed man following a season that saw him earn two suspensions, including a 17-game ban following a hit on Rangers defenseman
Ryan McDonagh
. It's one thing to say it, but we have to see it.
34. Varlamov gets another shot:
The
Avalanche
need the
Semyon Varlamov
gamble to work out, not just because they desperately need an upgrade in net, owning the worst save percentage in the league last season, but also because their first-round pick in 2012 -- perhaps a very, very high selection -- now belongs to the Washington Capitals as a result of the trade that brought him to Colorado.
35. Benn will star for the Stars:
The Dallas Stars have done a nice job developing forwards in recent years, and
Jamie Benn
looks like he's ready to become a 30-goal scorer.
36. Bryzgalov will be missed in Phoenix:
The
Coyotes
will struggle to return to the playoffs for a third consecutive year as they try to replace Ilya Bryzgalov with
Mike Smith
and
Jason LaBarbera
. Smith is familiar with coach Dave Tippett, but Bryzgalov was a big part of their success the past two years and he won't be easy to replace.
37. The Blue Jackets will be more entertaining:
Jeff Carter and
James Wisniewski
fill huge needs and
Ryan Johansen
can be a contender for the Calder Trophy. The playoffs are a real possibility in Columbus, and even if the Jackets fail to qualify, they will at least be a more interesting team to watch this year.
38. Patrick Kane at center:
Simply put,
how long will this experiment last
?
39. Vokoun/Neuvirth/Holtby trio of goaltenders in Washington:
An experienced veteran signed for way below his market value and two extremely talented youngsters.
Michal Neuvirth
still thinks the job is his, and when combined with his talent that level of determination has to be an exciting prospect for the Capitals. Vokoun, though, is no slouch and has been one of the best goaltenders in the league the past few years playing on one of the league's worst teams.
40. Malkin's return to the top of the scoring race:
For most players, simply averaging a point-per-game is a success. For a player with Malkin's ability it's considered a disappointment. This season he looks poised to return to the top of the NHL's scoring race and contend for the Art Ross Trophy. Speaking of which...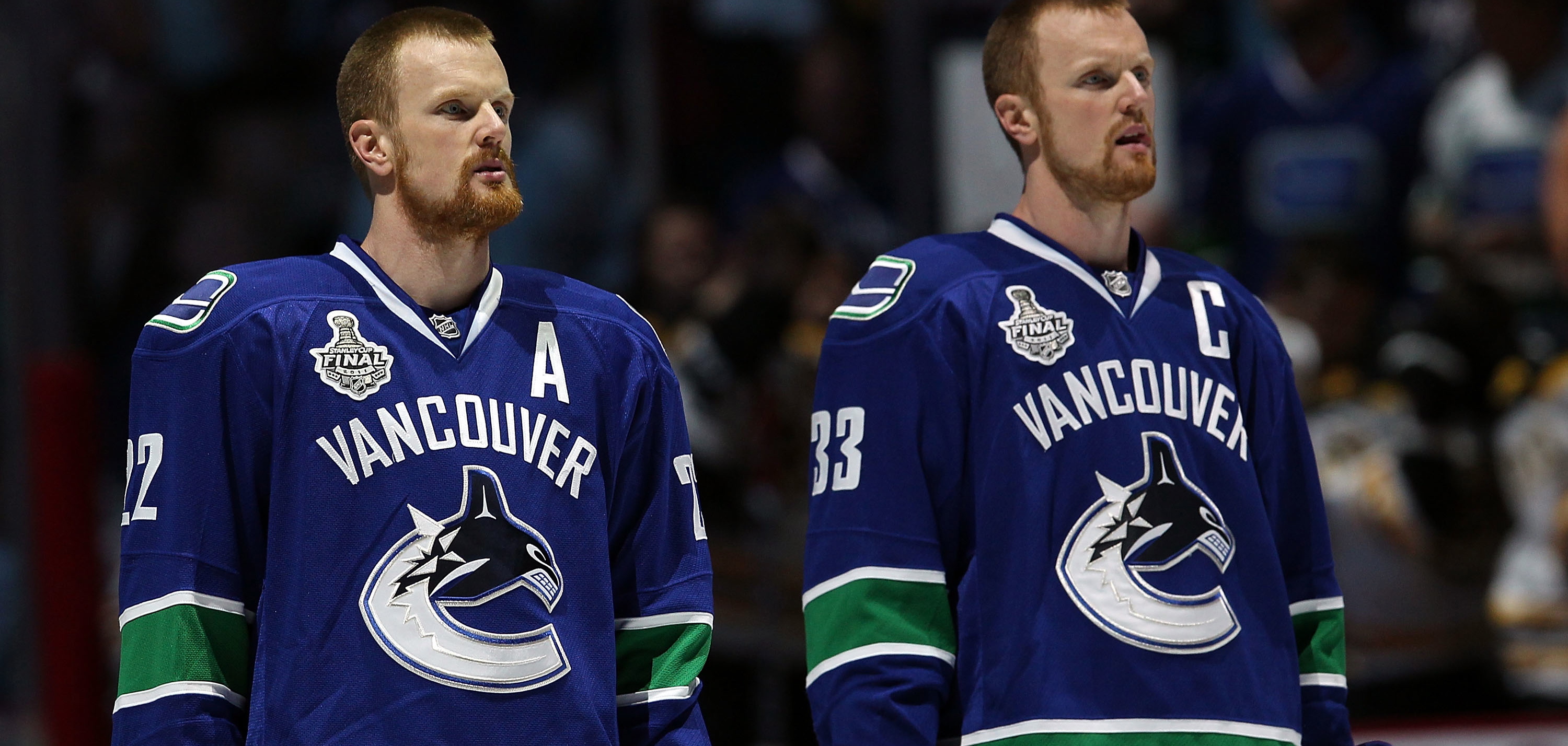 41. Will somebody other than the Sedin's win the scoring title?
The past two years two different players from the same family have won the NHL's scoring title. Is it a three-peat for the Sedin twins?
42. Jaromir Jagr: Does he have anything left?
The summer of Jagr was certainly interesting, especially if you were following the #jagrwatch on Twitter, but how much does the 39-year-old forward have left in the tank? Philadelphia might need a lot.
43. How big of an issue is Markov's knee?
Andrei Markov
is still Montreal's best defenseman and he's still fighting through some problems with the knee injuries that have plagued him over the past two years. After losing Wisniewski and
Roman Hamrlik
the
Canadiens
need him to be healthy.
44. Will Detroit need an upgrade on Jimmy Howard?
The Red Wings say they're happy with their goaltending situation, but twice in the past seven months they've tried to add a veteran goaltender, signing
Evgeni Nabokov
last season only to lose him on waivers before he could report to the team, and making a run at
Tomas Vokoun
this summer. That's not a coincidence.
45. Center of attention in Toronto:
The
Maple Leafs
have been searching for a true No. 1 center for quite some time, and after missing out on Brad Richards over the summer went with
Tim Connolly
on a two-year deal. The good news is he's not a bad player, but the bad news is he's constantly injured. Matthew Lombardi is in the mix if he can overcome his concussion problem, but after that it's a relatively thin group. Heck, even with them it's a thin group.
46. Edmonton's defense:
The Oilers have loads of potential at the forward positions but their defense is a mess after
Ryan Whitney
. Who will step up on their blue line?
47. How many games for DiPietro?
Like the Oilers the Islanders hope rests with their collection of forwards while serious questions about their defense and goaltending will haunt them all year. For the Islanders the yearly question (as it will be through 2020) is how many games will the oft-injured
Rick DiPietro
be in the lineup?
48. Bouwmeester: big money, little offense in Calgary:
When the
Flames
gave
Jay Bouwmeester
over $6 million per year three years ago they were probably expecting way more offense than this. He's averaged just around 27 points per season since signing with Calgary after averaging over 40 during his finals three seasons with Florida, primarily because his goal-scoring ability has suddenly disappeared. Sixty-eight defenseman recorded more points than his 24 last season.
49. Parise's return:
Not only his return to the lineup for the full-season, but also his return to being one of the top left wings in the NHL, will go a long way toward helping the
Devils
in their effort return to the playoffs after a disappointing season a year ago. In a contract year, Parise needs a big season on a personal level to strike it rich next summer.
50. How many 50-goal scorers will we see?
During the 2010-11 season we saw one 50-goal scorer (Perry), down from the three we had the previous season. The preseason favorites have to be
Alex Ovechkin
and
Steven Stamkos
, and Crosby might be able to get into that mix if he returns to action early enough.
Photos: Getty Images
For more hockey news, rumors and analysis, follow @EyeOnHockey and @agretz on Twitter.