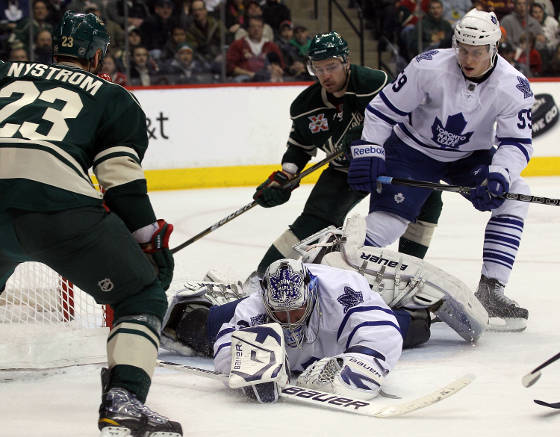 Toronto Maples Leafs rookie goalie
James Reimer
must be doing something right if he's getting compared to a Transformer.
A couple "Optimus Reim" posters were spotted Xcel Energy Center Tuesday night where Reimer turned in a 29-save performance in a 3-0 Leafs victory over the Minnesota
Wild
, the
Toronto Star reports
.
The 23-year-old from Arborg, Manitoba, is the chief reason Toronto still has a shot at its first postseason berth since before the lockout. He had fair amount of admirers as friends and family members made the 540-mile trek from his hometown.
"You always want to win and always want to put on a good show for family, especially when they drive a long way," Reimer told the newspaper. "They're the ones who put in the time and effort into my life and into my hockey career."
Reimer is 11-3-4 over his last 18 decisions and his three shutouts have come since Feb. 3. Not bad for a guy who was sent down to the AHL three times this season.
The Leafs finished the night in 10th place in the East, five points behind the eighth-place Buffalo
Sabres
. The Leafs have eight games remaining and it's a safe bet Reimer will get a chance to start in each of those -- especially when you factor in the outrage when coach Ron Wilson started J.S. Giguere in a loss to Florida last Thursday.
Beyond the playoff push, Reimer has also emerged as a candidate for the Calder Trophy. The discussion for the league's top rookie has been dominated by Carolina
Hurricanes
forward
Jeff Skinner
, San Jose
Sharks
forward
Logan Couture
, New York
Islanders
forward
Michael Grabner
and Sabres forward
Tyler Ennis
.
Unlike those skaters who are on lines with talented teammates, Reimer is often on his own --- like when he turned away two shorthanded breakaway chances on Tuesday. But what'll hurt his Calder hopes is his short resume.
He'll play at most 37 games, fewer than Chicago's
Corey Crawford
, Philly's
Sergei Bobrovsky
and Washington's
Michal Neuvirth
--- all rookie goalies with solid stats on playoff-bound teams.
But if he gets the Leafs into the playoffs, that'll cover up his short job history and transfrorm him into Calder contender.
COOKE AFTERMATH:
It appears New York
Rangers
defenseman
Ryan McDonagh
feels for Pittsburgh
Penguins
forward
Matt Cooke
, who was suspended Monday for the rest of the regular season and the first round of the playoffs for an elbow he delivered last weekend to McDonagh's head.
He spoke with Rangers broadcast outlet MSG before Tuesday's game (Here's the quote transcribed by
TSN.ca
):
"You're trying to get good momentum going into the playoffs or keep your playoff spot and that was a close game at the time and momentum could go the other way. I think he's trying to make a big hit and he just caught me wrong. I don't think it was his intent.

"The suspension … it is what it is. The league is really pushing to get these hits out of the game. If that's a statement, it's a pretty big statement, for sure."
Earlier in the day, Pittsburgh's two newspapers (
The
Post-Gazette and Tribune-Review)
reported Cooke expressed regret for the collision:
"I realize and understand, more so now than ever, that I need to change," Mr. Cooke said. "That's what I wanted my message to be."

"I'm fortunate that Ryan McDonagh wasn't hurt," he said. "I don't want to hurt anybody. That's not my intention. I know that I can be better. ... I made a mistake, and I'm the one who's accountable for that. And I take full responsibility for it."
WEST END:
Four points separate the fourth-place Phoenix
Coyotes
and 10th-place Calgary
Flames
entering play Wednesday. At the same point last season, that margin between the same two places in the Western Conference was 19 points.
TUESDAY'S RESULTS
NY Rangers 1, Florida 0
Boston 4, New Jersey 1
Carolina 4, Ottawa 3
Washington 5, Philadelphia 4 (SO)
Buffalo 2, Montreal 0
NY Islanders 5, Tampa Bay 2
Nashville 3, Edmonton 1
Toronto 3, Minnesota 0
Colorado 5, Columbus 4 (SO)
Phoenix 2, St. Louis 1
-- A.J. Perez
Photo: Getty Images