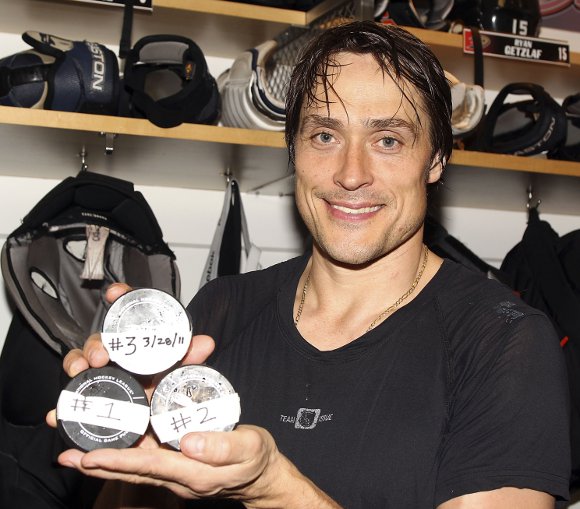 This was the same player who flirted with retirement the past few offseasons?
The Finnish Flash is a little less of a blur at age 40, though Teemuu Selanne had more than enough pace to victimize the Colorado
Avalanche
. He became the first player 40 or orlder to net three goals and two assists in a game as the Anahiem
Ducks
squeaked past the Avs, 5-4, on Monday, a victory that moved Anaheim back into seventh place in the Western Conference.
It was his 22nd career hat trick and first since Oct. 29, 2008. His final marker was vintage Selanne. Selanne took a rebound at the side of the net and with little room to work he shifted to his backhand and flipped the puck over Avs goalie
Brian Elliott
with five minutes left in the third period for his 235th career power play goal. Here's
a look at the
replay
.
"When you get older you're not so greedy anymore," Selanne said in a broadcast interview after the game. "You get two goals and you kind of stop playing. When you're old and try to get a hat trick it's almost embarrassing. When I was young I really wanted hat tricks."
He was young the last time he scored on a penalty shot, something he did in first period. His last successful penalty shot came while he was a member of the Winnipeg Jets in 1993.
A lot has changed for Selanne in the 18 years since, although he still wears the same old Jofa helmet.
He was traded to the rival San Jose Sharks in March 2001 and left for the Colorado Avalanche, where he joined former Ducks linemate Paul Karyia for 2003-04 season. That one-year experiment was hampered by injuries and Selanne rejoined the Ducks for the 2005-06 season. He's has been skating in Orange County even since -- minus the 2007-08 season when he joined midway through -- and was on the 2007 team that won the franchise's first Stanley Cup title.
Selanne has continued to add to his Hall of Fame resume. Here's a quick rundown:
He scored two more late goals last week to become the first player in NHL history with four-game tying goals in the final three minutes of regulation in one season.
Selanne is 14th all-time in goals (634), 49th in assists (701), tied with Mike Gartner for 29th in points (1,335).
His 235 power play goals are the seventh-most all-time.
His 75 points this season (28 goals, 47 assists) is the third most by any player 40 or older, although he still has a ways to go befor he catches record-holder Gordie Howe (103 points)
And those at the Honda Center Monday didn't want to see those numbers stunted via retirement as fans chanted, "One more year!"
"We're not going that far yet," Selanne replied.
MONDAY'S RESULTS
Chicago

3, Detroit 2 (OT)
Anaheim 5, Colorado 4
-- A.J. Perez
Photo: Getty Images