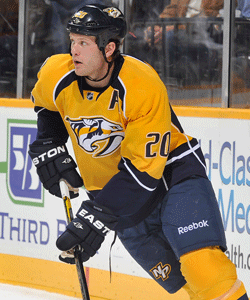 It wasn't long ago that the Nashville Predators sort of stunned the league and re-signed Pekka Rinne. It wasn't necessarily them re-signing Rinne that was so surprising, it was the fact that they gave the Vezina quality goaltender seven years and $49 million. Plus the timing was out of the blue, the negotiations were very quiet.
Plus it was just surprising the Preds would give him so much knowing there are two other big free agents to re-sign. After years of operating on such a low budget, many were guessing that meant either one or both of Ryan Suter and Shea Weber wouldn't be back, the team wouldn't be able to afford them all.
That was the prevailing thought by some. The general thinking was that if only one was coming back, it would be Weber. That would have left Suter on the outside looking in.
I have maintained that Nashville sees a window of opportunity opening to win and is willing to spend near the cap starting next season, thus it will do all it can to get the three all under contract long-term. That is starting to look more and more possible.
With Rinne already taken care of and Weber being unable to sign until January since he received his one-year contract this summer, all of the negotiating attention is on Suter. His agent, Neil Sheehy, has been in Nashville to work on a deal for Suter, who is due to be a free agent on July 1.
"I don't want to get into the substance of the negotiation," Sheehy told Joshua Cooper of the Tennesseean. "The Predators are making every effort to sign Ryan and Ryan wants to be here, but there's issues you address. I think it's always best when you can address them with each other. You take a little bit of time to reflect on it and then you come back to further discussions."
It sounds like most agent speak. Not a whole lot to take out of it other than they are working on a deal. Then there is Suter's comment.
"We're just talking, trying to figure everything out and that we're on the same page," Suter said. "I want to be here, that's the big thing and they want me here, and it's going to get done."
The last part is what really sticks out, a pretty definitive statement: "it's going to get done."
One thing to consider here is that the Predators announced on Wednesday that Canadian businessman W. Brett Wilson bought a five percent minority stake in the franchise. His addition could bring about a little influx of cash to the team.
It's easy to see why the Preds would want to lock Suter into a long-term deal. He is still just 26 years old (turns 27 in January) and if it weren't for his teammate Weber, would be their best defenseman. If he weren't overshadowed by Weber, he would likely be in the Norris Trophy conversation. This season in 17 games Suter has three goals and six assists while sporting a robust plus-11.
Photo: Getty Images
For more hockey news, rumors and analysis, follow @EyeOnHockey and @BrianStubitsNHL on Twitter.