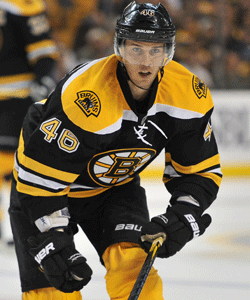 Uh oh, Boston. David Krejci will not play when the Bruins take on the Carolina Hurricanes on Wednesday night after going down in practice on Tuesday with what the team described as a "core injury."
Originally, Joe Haggerty of CSN New Enland reported that Krejci went down in a non-contact injury and was looking at a problem with his knee. In Haggerty's words, the best case scenario -- best case! -- was that he's out for a couple of weeks with a knee sprain. You can probably figure out the worst case scenario, but I imagine it would have three little letters.
But coach Claude Julien said that instead it's a core issue and Krejci is day to day. That's a minor crisis averted.
These are the exact types of perils that just seem to await teams after winning a Stanley Cup. As if starting slow out of the gate (two points, five goals in three games) wasn't enough, now the B's will be without their co-leading scorer from last season and top-line center as they try and wake up. Krejci was especially effective in the playoffs when he had 12 goals -- one shy of his regular-season total of 13 -- and 11 assists.
As a result, it looks like the Bruins will have to call on the kid -- Tyler Seguin -- to man the top center spot for the time being. It was only 20 games or so ago that Seguin was a healthy scratch and now he'll get a shot to play between Nathan Horton and Milan Lucic.
We know this much, he'll add some speed that can maybe jumpstart Boston's scorers. Because while the rest of the team might be hung over from the summer celebrations, we know Seguin isn't since he's under the American legal drinking age. (Ummmm, just play along.)
Or it could just be as simple as what Shawn Thornton thinks: The Bruins aren't playing hard enough.
Back to the issue at hand: They could also put Patrice Bergeron up on the first line and leave Seguin to center another group. Or Claude Julien could pull any other number of changes he fancies. Either way, it seems like the No. 2 overall draft pick in the summer of 2010 is going to get his shot and play in the middle.
With Buffalo in the division off to a great start and the Eastern Conference looking better as a whole, the Bruins can't really afford to take too much time getting going. As their local counterparts in baseball showed, poor starts to the season can haunt you in the end (and poor finishes).
Photo: Getty Images
For more hockey news, rumors and analysis, follow @EyeOnHockey and @BrianStubitsNHL on Twitter.