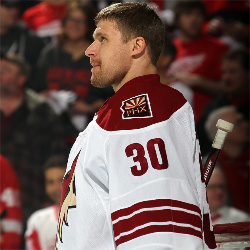 By: Adam Gretz
After a series of trades and some re-tooling of the roster earlier this summer, goaltender
Ilya Bryzgalov
has pretty much become the face of the Philadelphia
Flyers
. He's the highest paid player on the team and
the third highest-paid player in the NHL this season
, a contract he signed shortly after forwards
Mike Richards
and
Jeff Carter
were sent packing to Los Angeles and Columbus.
With that comes plenty of expectation, especially at a position that has been viewed as the only weak link for a perennial Stanley Cup contender. It's a bold shift in organizational structure for the Flyers, a team that over the past several years went through each season and playoff run with a revolving door of goaltenders with relatively small salary cap commitments.
Over the past three seasons alone the Flyers used eight different goaltenders for at least one game. Those days appear to be over, as Bryzgalov will obviously be counted on to solidify the position for the next several years. Whether he will be enough to overcome the loss of offensive players like Richards, Carter and
Ville Leino
remains to be seen, but the 31-year-old has become one of the most important players -- if not the most important player -- in the organization for the foreseeable future.
The Flyers introduced Bryzgalov to the Philadelphia media on Thursday, and he's not only ready to play as many games as the Flyers need him to play, he's expecting to win a lot of them, too (then again, what else is he going to say?).
Said Bryzgalov, "When you play a lot, you feel confident about your game. If they need me to play 70 games, I'll play 70. If they need me to play 50, I'll play 50. So it all depends on the coach and management, whatever they need."
He's also looking to win at least 40 games this season, something he did two years ago as a member of the Phoenix
Coyotes
. Playing 50 games, or even 60 games, hasn't been an issue in recent years as he was a workhorse for the Coyotes, appearing in at least 64 games in each of the past four seasons.
The 40 wins, however, could be tougher goal to reach.
Of course, regular seasons wins aren't going to be what the majority of Flyers fans care about. It's all going to come down to what happens in the playoffs, an area that remains somewhat of a question for Bryzgalov after some struggles the past two seasons with the Coyotes, a team that simply wasn't as talented from top-to-bottom as the Detroit
Red Wings
teams that eliminated them (he had more postseason success with Anaheim back in 2005 and 2006).
The Flyers lost a lot of offense this summer and are replacing it with some unproven -- though talented -- youngsters up front, while their top two defenseman (
Chris Pronger
and
Kimmo Timonen
) are both a year older, which means more responsibility for the man in goal. He's an improvement over what they've been running out there in past years for sure, but it's not out of the question for the Flyers to take a bit of a step back this year as a team, even with the upgrade Bryzgalov will bring.
You can see Bryzgalov's introductory press conference
in its entirety at the Flyers website
.
Photo: Getty Images
For more hockey news, rumors and analysis, follow @EyeOnHockey and @agretz on Twitter.