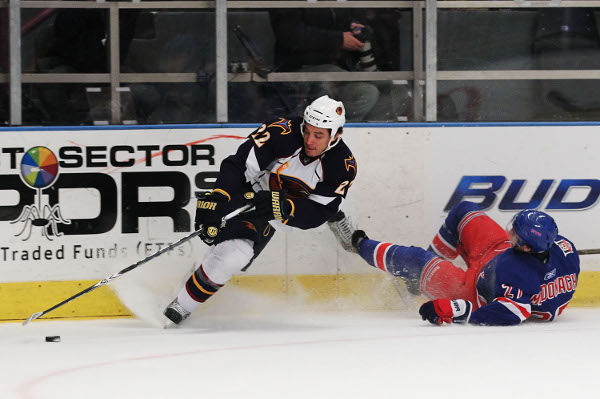 A year later, the New York
Rangers
will
really
want to avoid a shootout.
The Blueshirts' final game a season ago was pretty strightforward: A victory -- by any means -- over the Philadelphia
Flyers
meant a trip to the postseason. That didn't turn out so well as the Flyers skated into the postseason with a shootout victory, but at least the Rangers controlled their own fate.
The Rangers lost that Thursday with a 3-0 loss to the Atlanta
Thrashers
, a defeat that allowed the ninth-place Carolina
Hurricanes
determine which team gets the final seed in the East.
"We laid an egg," Rangers coach John Tortorella told reporters after the game. "We need to move by it was quickly as possible."
Tortorella said next up for the Rangers is some scoreboard watching. And it's not as simple as wins and losses in this tight of a race, especially with the new tiebreaking rules.
The Hurricanes will get their shot at the Thrashers tonight in Atlanta and could move into eighth place with a victory , be it in regulation, overtime or the shootout. A shootout victory by the 'Canes would complicate things slightly since both Carolina and New York currently have 34 victories in regulation or via shootout --- the first tiebreaker. The 'Canes, however, hold the second tiebreaker since they hold a better record in the season series against the Rangers.
However tonight goes, it will come down to this Saturday. The New Jersey
Devils
, whose playoff push petered out a few days back, have a chance to keep the rival Rangers out of the playoffs in a matinee tilt at Madison Square Garden. The Hurricanes host the Tampa Bay
Lightning
later in the day.
Instead of a shootout --- which is certainly a dubious way to determine a playoff spot --- we're doing math. We have Columbus
Blue Jackets
GM Scott Howson to thank for that. He backed the change to the rule last August and while not many journalists like to pull out calculators, it's certainly appears to be fairer way to determine who makes the playoffs.
"We felt this coming for the past three weeks," Tortorella said.
Here's an interesting scenario: Hurricanes win in a shootout Friday and the Rangers beat the Devils in regulation or overtime Saturday afternoon. The Hurricanes would only be two points behind Rangers come Saturday night, but they would need to win in regulation or overtime since the Rangers would have the edge with 35 regulation/overtime victories --- that first tiebreaker.
Knowing that fact, could we see 'Cances gaolie
Cam Ward
on the bench for an extra attacker in OT since a shootout victory would prove meaningless?
While the 'Canes and the Dallas
Stars
enter the weekend as the only teams outside of the top-8 in each conference, it does make for an interesting last few days of the regulation season.
THURSDAY'S RESULTS
Atlanta 3, NY Rangers 0
Ottawa 3, Montreal 2 (OT)
Dallas 4, Colorado 2
Vancouver 5, Minnesota 0
-- A.J. Perez
Photo: Getty Images