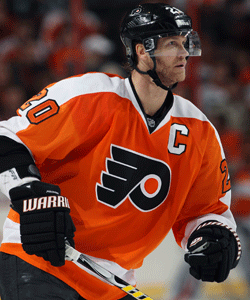 Schedules: Friday | Saturday | Sunday
There must be something in the water in Pennsylvania. That's the old cliché people turn to when they can't make sense of what's going on, how people (or teams in this case) continue to perform at a high level despite the obstacles.
We saw it last year (and again this season, really) with the Pittsburgh Penguins. Despite being without Sidney Crosby and Evgeni Malkin the second half of last season, they just kept on winning. Their 106 points were tied with the Flyers for most in the Atlantic and were just one point behind the Capitals for best in the East.
This season, the Flyers are getting their own taste of life without their Stars. And just like their Keystone State brethren, they continue to win. As in seven in a row.
Philly has been playing without its captain Chris Pronger for a month now. After yesterday's news, they are going to have to play the rest of the season without him, too. In fact, some are saying that Pronger might never play a game again. After all, he is 37 and he has a life after hockey to think about.
As good as Pronger is and has been his entire career, the Flyers have done a good job overcoming his absence this season -- nay, a great job. Since he last played against Winnipeg on Nov. 19, the Flyers have won nine of 11 games.
As callous as it always feels, the Flyers must move on. While their captain and best defenseman deals with severe post-concussion syndrome, they have a very promising season to continue. With the roster freeze coming next week, it's unlikely the Flyers will acquire some additional help on the blue line in the near future, but it will have to be a consideration for Flyers GM Paul Holmgren.
Holmgren told the media on Friday that he's already considered that, having called all 29 teams, presumably about any defensemen they might have available.
But that's for then. Right now, the Flyers are making due without him or their budding superstar center Claude Giroux (or simply G, as they team calls him). It doesn't seem like it will be a long shelving for Giroux, but you never can know, concussions tend to be pretty fickle.
In the only games the Flyers have played without either player, they have won. Despite missing their leading scorer and a point-producing defenseman, Philly has still averaged 4.5 goals in the two games without Giroux and Pronger.
But now a real test comes to see how they compare with the other beats of the East without the two stars.
The Boston Bruins are nipping on the Flyers' heels for the best record in the Eastern Conference and they, too, have been playing without arguably their best player (skaters-only division) in Zdeno Chara. But the big man might be back in time for the Saturday matinee in Philadelphia.
"We're going to give him a chance to fly and see how he feels," Bruins coach Claude Julien said. "If he feels good then we have a chance of seeing him."
Normally I'd lament this game being played without Giroux, Pronger and possibly Chara. But with the way both of them, the Flyers in particular, have played without the all-stars, I don't see it stopping what will likely still be a very good game.
Winnipeg welcome wagon rolls on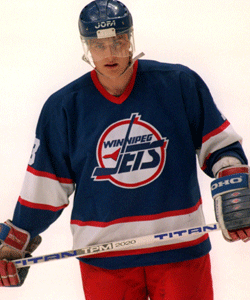 This first season with the Jets back in the NHL has been an ongoing welcome wagon for the folks in Manitoba. They were licking their chops at getting to see Ilya Bryzgalov, they relished the opportunity to see former Jet Shane Doan back in Winnipeg.
Now comes perhaps the best welcome/return of them all; Teemu Selanne.
The veteran once starred for the Jets before he was traded to the Anaheim Ducks. He has waited for the chance to go back and play in the first NHL city he called home. Now it comes on Saturday night.
"You know, even when the schedule came out, even when I didn't know if I was going to play or not, I checked right away if we were going to Winnipeg," Selanne said. "That day was on my calendar right away.
"I knew there were two really special things. Obviously the Finland trip and then Winnipeg. It was really exciting to even think about it."
Unlike the welcomes fans in Winnipeg gave to Bryzgalov and, to an extent, Doan, it's hard to imagine there will be any jeers, only cheers for Selanne.
"He was so admired. It was overwhelming," Jets chairman Mark Chipman said of Selanne. "This guy was so good and so approachable and so humble in his approach that the community just absolutely fell head over heels for the guy."
Amazingly, Selanne is still performing at the level he was when he first broke into the NHL with the Jets in the early 90s. That's only going to help the flashbacks for the fans -- minus that whole wearing the Ducks jersey part.
Back in Buffalo
One of the more criticized offseason signings (excluding just about every move made by the Florida Panthers) was the Toronto Maple Leafs signing former Sabres center Tim Connolly. Leafs GM Brian Burke gave Connolly a two-year deal worth $4.75 million per season.
People in Buffalo laughed and simply said "Enjoy!" to their near-neighbors in Toronto. It wasn't about Connolly being a bad player -- he's not at all -- but it was about his health concerns. There always seemed to be something that was keeping Connolly on the bench.
So there's a sense of irony when the Maple Leafs visit the First Niagara Center this weekend. Connolly will be healthy and on the ice against his former team. Although he hasn't been without his health issues this season, when he's been on the ice, he's been good for Toronto. In 18 games played, he has 15 points.
On the other hand, the deal that Buffalo signed with Ville Leino was widely applauded. That one hasn't worked out so well.
Reunion tour continues
The Washington Capitals will be visiting the Colorado Avalanche this weekend. That means they will get to see their old goalie Semyon Varlamov up close and personal again.
Varlamov was traded to the Avs this summer after he made it clear that he was looking to play in the KHL over Washington. So Caps GM George McPhee swung a deal with the Avs to give them Varlamov in exchange for Colorado's first-round draft pick this offseason and their second-round pick.
So not only do the Caps get the chance to say hi to an old friend, but they can help themselves out in more ways than one. The points in the standings are the first and most obvious way, but every game without points for the Avs helps the Caps' first-round draft pick go higher and higher.
Although it's quieted down with Varlamov coming back down to earth, when he and the Avalanche were off to their hot starts, some in Washington wondered if the team made the wrong goalie decision. There might still be some questions considering the duo of Tomas Vokoun and Michal Neuvirth hasn't fared much better, if at all. But at least Neuvirth comes into the game having just shut out the Jets in Winnipeg, so there might be some positive momentum building. The goaltending problems have been as much an issue as anything in D.C. this season.
Canucks are still great
In fact, according to Roberto Luongo they are better than they were last season, which was great.
"We were one win away, so I don't think you need to change much," Luongo said. "That being said, though, we went through a lot last year, and I think we grew as a team. So for that reason alone, I think that we're better than last year."
That's even with him still getting a lot of starts in the net. Remember, he was a Vezina finalist last season. This season? Not so much.
Their next chance to prove Lu right will come in Toronto on Saturday evening for another Hockey Night in Canada appearance.
Stammer don't hurt 'em!
More like don't get hurt Stammer.
With his overtime winner on Thursday night, Steven Stamkos joined Milan Michalek on the top of the goal-scoring list this season with his 19th. Hopefully the same fate that has befallen many of the game's best scorers in recent weeks won't strike the Lightning's superstar.
With Michalek, Giroux, Sidney Crosby and Jeff Skinner (among many others) recently being diagnosed with concussions or at least post-concussion symptoms, the last thing the league wants is another young star to go down. If anything, it would probably love to see Stamkos go on one of his tears and become a positive story in the league again.
He'll have the chance to take the lead in the goals race by himself when Tampa Bay heads to Columbus to face the Blue Jackets.
We're going streaking!
Flyers: As mentioned, they are the hottest thing going in the NHL right now between their seven-game win streak and HBO's 24/7.
Bruins: Philly's opponent brings a modest three-game run of itself into the Saturday matchup.
Chicago Blackhawks: A double-dip awaits the Blackhawks and their three-game win streak as they face the Ducks and Flames.
Nashville Predators and St. Louis Blues: We're going to combine these two because they are both riding four-game win streaks and they will face off against one another on Saturday. The Blues also have the Jackets on Sunday.
Dallas Stars: Last on the win side, the Pacific-leading Stars take to New Jersey seeking to extend their three-game streak on Scott Niedermayer Night.
New York Islanders: Once again, the Isles are slumping. They get to face the NHL-best Minnesota Wild with a four-game skid. The good news for New York is Minnesota is likely down a lot of bodies.
Florida Panthers The Southeast leaders are on a mini slump having lost three in a row. They have the Flames and Hurricanes at home this weekend to try and cure the ills.
Photo: Getty Images
For more hockey news, rumors and analysis, follow @EyeOnHockey and @BrianStubitsNHL on Twitter.