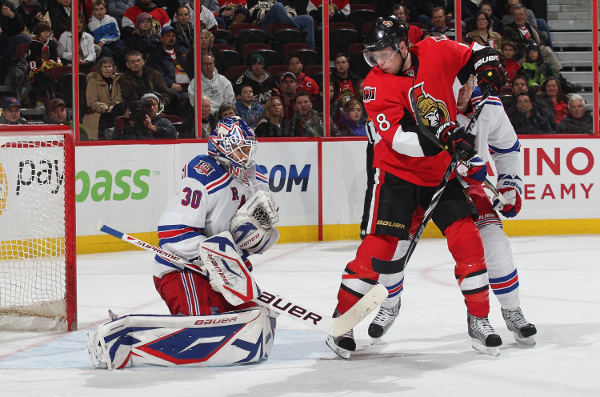 New York Rangers (33-29-4) at Ottawa Senators (22-33-9)
Scotiabank Place, 7:30 pm ET
SEASON SERIES:
Rangers 1-1-0; Senators 1-1-0
IMPLICATIONS:
A victory by the Rangers moves them up to seventh place in the Eastern Conference. The Sens will only hurt their chances in the draft. Here's our
playoff tracker
.
BREAKDOWN:
The Rangers have scored four goals during their current three-game skid, a slump that began right after New York posted a 6-0 victory over the Washington
Capitals
. (The Rangers are 1-11 on the power play during this stretch.) After Ottawa, New York faces three teams with legit shots at the playoffs (Philadelphia, Anaheim and San Jose), so it might be a good idea to halt the free fall against the worst team record-wise in the East.
PLAYER Vs. PLAYER:
Rangers goalie
Henrik Lundqvist
vs. Senators goalie
Craig Anderson
. Anderson, acquired from Colorado before the deadline, is 4-1-1 with a shutout, a 1.48 GAA and .958 save percentage in his career against the Rangers. Lundqvist has a losing record (9-11-0) against Ottawa.
KEY STAT:
10-5-0. That's the Rangers' record in the second of back-to-back games this season, where they have outscored opponents 39-25. New York is coming off a 3-1 loss to the Minnesota
Wild
at the Madison Square Garden on Thursday.
Photo: Getty Images