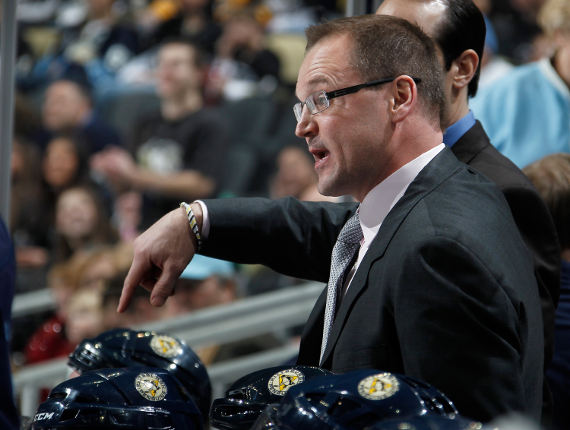 Pittsburgh
Penguins
coach Dan Bylsma may have wrapped up the Jack Adams Award on Monday.
There are plenty of deserving candidates for the NHL's version of coach of the year. Alain Vigneault's Vancouver
Canucks
were the first team to clinch a playoff berth and are likely to lay claim to the franchise's first Presidents' Trophy. Jacques Lemaire was plucked out of retirement and led the New Jersey
Devils
from the basement to a chance at the postseason in few short months. Peter Laviolette has had the Philadelphia
Flyers
in first place in the East for most of the season.
Still, Bylsma's coaching effort can't be overlooked. He's lost Evegni Malkin for the season to a knee injury and his superstar center, Sidney Crosby, hasn't played since the first week of January due to a concussion and his return this season remains a question mark. He's also seen cogs like forwards
Jordan Staal
and
Chris Kunitz
along with defenseman
Brooks Orpik
miss time.
The Pens entered play Monday night with 296 man games lost due to injury --- and that's not counting the suspensions. The most recent was handed down before Monday's game against the Detroit
Red Wings
as the league slapped forward
Matt Cooke
with a ban that extends through the rest of the regular season
(10 games) and the first round of the playoffs.
Then the Penguins went on to beat the Red Wings, 5-4, in a shootout. While it'll be a stretch for the Pens to overtake the Flyers in the Atlantic Division, the chance they could remain in fourth and host a first-round series is a feat all things considered.
Bylsma shrugged off all the "woe is me" talk when he spoke to
The Grand Rapids Press' Michael Zuidema on Monday
:
"From within our room, we don't feel like we've dealt with as much adversity as people outside our room think that we've dealt with," he said. "We understand that there are injuries and I don't think it's a lot different than other teams. We've continued to focus on how we play and our execution level."
GM Ray Shero and the Pens scouting staff deserves a nod brining in some help before the trading deadline. Forward
James Neal
and defenseman
Matt Niskanen
were acquired from the Dallas
Stars
for defenseman
Alex Goligoski
. Forward
Alexei Kovalev
was also brought back to Pittsburgh in exchange for a conditional draft pick with the Ottawa
Senators
.
Bylsma, the easygoing former NHL player from Grand Haven, Mich., has made the pieces fit and that was recognized earlier this month with a three-year contract extension. Maybe he'll get that Jack Adams Trophy -- an award voted on by the NHL Broadcasters Association -- to go next to the mementos from his 2009 Stanley Cup title run.
MONDAY'S RESULTS
Pittsburgh 5, Detroit 4 (SO)
Los Angeles 2, Calgary 1 (SO)
-- A.J. Perez
Credit: Getty Images