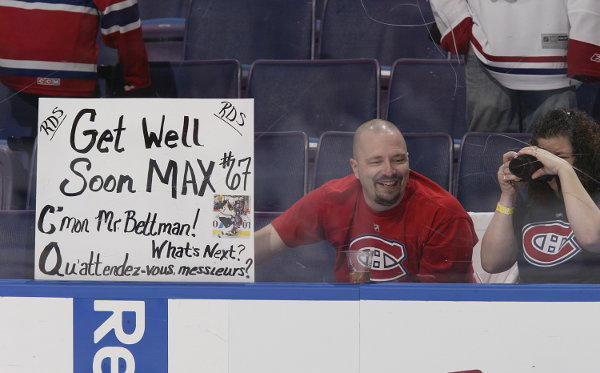 The image of Pittsburgh
Penguins
agitator
Matt Cooke
's brutal hit on Boston
Bruins
forward Marc Savard was still fresh in the minds in the league's general managers when they met in Florida last March.
What resulted was Rule 48, language that banned blindside hits
like the one Savard took days earlier
and made violators subject to supplemental discipline. The rule was soon adopted by the competition committee and enforcement began days before the start of the playoffs.
It did nothing to protect Sidney Crosby or
Max Pacioretty
-- two players injured in incidents not covered by Rule 48 or any other guideline that put the players who injured them in peril of a fine or suspension.
Crosby, out of the Penguins' lineup since Jan. 5 with concussion-like symptoms,
took a shoulder to the head
without the puck by
David Steckel
, who was then a member of the Washington
Capitals
.Montreal's Pacioretty suffered a severe concussion and a broken bone in his neck when Boston's
Zdeno Chara
sent him off a divider between the benches
.
Pacioretty's collision with the turnbuckle last week certainly was the scarier to watch of the two, but could either lead to more changes to the NHL rulebook when the three-day GM meetings begin today?
"If you listen to the media and read the papers north of the border, there's tremendous pressure to at least revisit it (the subject of reducing head injuries in the game),"
Sabres
general manager Darcy Regier told
The Buffalo News
. "I think we're going to have to do that."
The number of man games lost blindside hits dropped, NHL commissioner Gary Bettman told reporters at the All-Star game in January. But he said types of concussions through "accidental" collisions are on the rise.
"The ideal number of concussions would be zero," Bettman said. "Our objective would be to come as close as possible to get that result without changing the fundamentals of our game. We are doing whatever possible to limit the amount of concussions."
One option is to make any type of hit to a player's head illegal, even if it's accidental. While that wouldn't pertain to Chara's collision with Pacioretty, Montreal GM Pierre Gauthier might have a few ideas.
SUNDAY'S RESULTS
Washington 4, Chicago 3 (OT)
Pittsburgh 5, Edmonton 1
Los Angeles 3, Dallas 2
Buffalo 6, Ottawa 4
Phoenix 5, Anaheim, 2
CBSSports.com playoff tracker
-- A.J. Perez
Photo: Getty Images