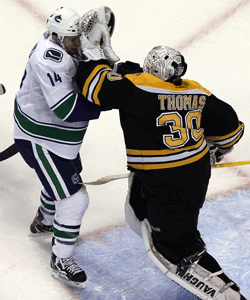 Schedules: Friday | Saturday | Sunday
Vancouver to start Schneider over Luongo
The Boston Bruins are out-of-this-world good. Six times this season they have beaten their opponent by at least five goals. That includes Thursday's 9-0 rout of the Calgary Flames.
On the season they have scored 138 goals (most in the NHL) and only allowed 69 (fewest in the NHL). For the mathematically impaired, that's exactly twice as many goals for as against. They have an absolutely staggering plus-69 goal differential on the season.
To put that in further perspective, here's a stat that was pointed out to me by a friend. In only half a season, the Bruins' plus-69 is better than all but three teams' season total in the last three years.
Since their 3-7-0 start, it's been utterly ridiculous what they have done. Their record since is 23-3-1. That means they have earned 47 of the past 54 possible points.
It's scary to think about, but the numbers point to the Bruins being a better team than they were a season ago when they beat the Vancouver Canucks in the Stanley Cup Final.
Well the Canucks will get their one and only chance this season to see how much better, if at all, the Bruins are than a season ago.
These teams have had rather similar paths since their great seven-game Final a season ago. The Bruins have received a lot of the attention for the way they have just been steamrolling the competition, but the Canucks are going through a somewhat similar season. They, too, rebounded from the long postseason with a sluggish start but have since come to play the way they were expected. They have retaken their seat atop the Northwest Division and are in the thick for best record in the league.
It's no exaggeration to say that these very well could be the two best teams in the NHL again this season.
Yet this Saturday's matchup in Boston isn't as much about this season as it is about last season, specifically the Finals.
"I know there's going to be a lot of hype for that game, but we're a different team than we were last year. We've added some different components," Canucks coach Alain Vigneault told ESPN.com. "Boston is pretty much the same team, but it's a new year. We're going to just go in there and try and play our best game."
There was enough hostility in that seven-game series to last for three series. We had finger-biting, tire-pumping, trash-talking and rioting. Well OK, that last one wasn't in the series, but still.
The biggest bit of trash talk that came out publicly wasn't until after the series when now retired Bruins forward Mark Recchi said he has never hated an opponent like he did those Canucks. That prompted Canucks defenseman Kevin Bieksa to suggest Recchi go play a round of golf or take a nap.
Recchi, now working with NBC, did backtrack this week.
"I probably shouldn't have said anything and I wish I wouldn't have, but that's what happened and that's how the series was," Recchi told Vancouver's The Province. "People know I love B.C. and Vancouver and it was an unbelievable series but there was a lot of dislike on both sides. And it wouldn't have been a Stanley Cup final if there wasn't that much dislike -- we really didn't like each other."
It's not likely that the dislike has worn off in the half-year since.
The rematch will have about all you could ask for in a midseason contest, assuming the Bruins don't turn it into a snoozer with another rout.
Mr. 499
I haven't come across anybody who doesn't like Jarome Iginla. The Calgary Flames forward has long been the epitome of what people want in their professional athletes. He's humble, approachable, charitable and of course talented.
He's on the cusp of reaching a great milestone, sitting one goal away from No. 500 in his career. Quite honestly, it's about the only reason why non-Flames fans would want to watch Calgary at the moment.
Iginla told CBSSports.com this week that the pursuit of the milestone isn't something that he's been worried about, but he certainly has thought about it.
"No, it hasn't weighed, but now that I'm at 499, you definitely try not to think about it on each shot and think 'well it could be' or whatever. So I think about it a little bit," Iginla said. "But once you get to the game you're just competing and want to win the game. I don't look at it like I'm counting down games. Just keep going and just keep trying to shoot and get chances and keep the same approach. But you definitely think about it a little bit."
Because of the World Junior tournament that just ended on Thursday with one hell of a game between Sweden and Russia, the Flames have been road warriors for the past couple of weeks. But on Saturday night they'll return home to the Saddledome to take on the Minnesota Wild with Iginla still just one away.
In a way it's great that Iginla didn't reach the milestone in the past week for it will give him a chance to do it back home in Calgary. He'd be applauded handsomely in whichever city it happened, but it's always best to do these things at home.
Certainly the team will be happy to be back home, too. The Flames petered out the end of their seven-game road trip, losing the last five, including that 9-0 rout in Boston.
"We feel that we're good at home and that we're confident," Iginla said. They better hope so, they don't want to fall too far behind in the playoff picture.
Capitalizing
One team that has crawled back into the playoff picture is the Washington Capitals. The Caps were, to be frank, very average for a good chunk of the first half. However they have begun to play just how they were expected to. That's every more so the case with Alex Ovechkin.
Ovechkin had gone 23 straight games without multiple points in one night. He snapped that streak and has since run off four consecutive multi-point games. Maybe he had a great Christmas. Or perhaps it was the excitement of his two-year anniversary as captain. Whatever the reason, he has elevated his game big time and probably not coincidentally, so has Washington.
They travel to the West Coast to take on the San Jose Sharks on Saturday riding a four-game win streak. Again, it's no coincidence that Ovechkin has four straight multiple-point games.
But I'm still not 100 percent sold this team is back to its big-time status. Of the four wins, three have come at home where they have been very tough to beat, regardless of the overall mediocre performance. The fourth was a road win at Columbus. So this trip to San Jose, where they haven't won since 1993, will be a better gauge to see how the Capitals are coming along under Dale Hunter. Once they start winning on the road, then I'll start believing in them again.
Boom! Madden's debut
The Florida Panthers are still beating the odds and hanging onto first place in the Southeast Division. On Friday night they'll get some reinforcement to help them stay there.
Recently signed veteran John Madden is expected to make his debut with the Panthers in New Jersey. It's an interesting place for his first game as a Panther considering he spent the majority of his career with the Devils and helped them win two Stanley Cups.
That adds to the storyline this season of Devils coach Peter DeBoer facing his former team. Really, that doesn't hold much weight after the first meeting, so Madden's debut puts a little zest in another game between the two.
I'm sure the Devils fans will give Madden a nice, hearty hand even if he's in the other team's red.
More Wings work
It's going to be an Original Six weekend for the Detroit Red Wings.
On Saturday they will get a crack at their neighbors a little to the Northeast in the Toronto Maple Leafs. Despite not being in the same conference, these two teams still have a good rivalry that stretches way back. Their proximity to each other helps too. It's why so many want to see the Leafs play in next year's Winter Classic against the Wings, possibly in the Big House.
Once they are done with the team from Toronto, they face their other Original Six big rival, the one that's still in their division. The Red Wings and Chicago Blackhawks will wage a big battle on Sunday that will continue to help shape the ever-tight Central Division.
Great weekend of hockey for the folks in Hockeytown.
We're going streaking!
Here are the winning streaks and losing streaks in play entering the weekend.
New York Rangers: The Blueshirts keep on winning, taking a three-game streak into Friday's matchup with the Penguins in Pittsburgh.
New York Islanders: The Isles make the list this week, and it's on the good side! A three-game win streak is on the line at the Ducks on Friday and then the Coyotes on Saturday.
Ottawa Senators: The quietest of the NHL's surprise teams, the Senators have a four-game run going into the home-and-home with the Philadelphia Flyers on Saturday and Sunday.
Capitals: Aforementioned four-game win streak with the one game at San Jose.
Colorado Avalanche: The up-and-down Avs are playing well again, having won three straight. They have a tough Friday-Saturday road trip of at the Blackhawks and at the Blues.
Sharks: Not mentioned above, the Sharks also come into the game against the Caps hot, having won three in a row.
Flames: They look to end their five-game skid against the Wild on Saturday.
Anaheim Ducks: Three losses in a row and counting? With all their players now on the trade block, they face the Islanders and the Columbus Blue Jackets on Sunday.
Photo: Getty Images
For more hockey news, rumors and analysis, follow @EyeOnHockey and @BrianStubitsNHL on Twitter.