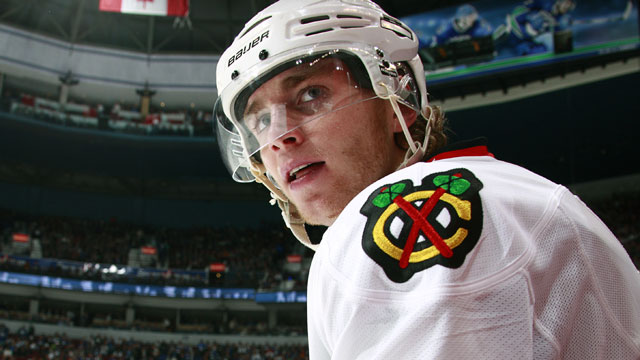 By Brian Stubits
Good thing it's the offseason, because Chicago Blackhawks star forward Patrick Kane needs surgery on his left wrist.
Blackhawks team Dr. Michael Terry says Kane will have surgery on Tuesday to repair what he called a scaphoid fracture, an injury that came to light during recent workouts. Orthoinfo.com says scaphoid fractures are most commonly sustained by a fall on an outstretched hand, with most of the weight landing on the palm. The scaphoid is a small bone that is the wrist's most likely to break.
The recovery will take 6-8 weeks, meaning he shouldn't miss training camp and be ready to go for next season.
"It was a little sore, and he got it checked out and it was one of those things where it needed to be fixed," GM Stan Bowman said. "You never want to have injuries, but if you're going to have them, summertime is the best time."
Kane apparently sustained the injury in the second-to-last game of the regular season. He appeared in all of the Blackhawks' seven playoff contests in a first-round loss to Vancouver, recording one goal and five assists.
"It was just one of those things that was kind of bothering me for a while," said Kane, who appeared at the Blackhawks' annual convention on Friday with a cast on his left wrist and forearm. "I just wanted to get it checked out, hoping that doctors would tell me that it was bruised or sprained, and I would take a couple of weeks off and that would be it.
"You never like the idea of surgery, but it's not something that's going to affect my game once the season comes," he added. "It's definitely something we wanted to fix and it's good we're doing it now."
The news shouldn't be anything to scare the Blackhawks unless it carries any unforeseen lingering effects. It certainly beats the summer news they received about Kane in the past, specifically his little legal entanglement.
After just sneaking into the playoffs last season, Chicago was aggressive this postseason in retooling a year after unloading to try and get back into contention for the Stanley Cup. To make it all work, the health of Kane will be critical.
In 73 games last season, Kane had 73 points on 27 goals and 46 assists. His total was just three points shy of team-leader Jonathan Toews despite playing seven less games.
For more Blackhawks news, click here.
The Associated Press contributed to this report
Photo: Getty Images
For more hockey news, rumors and analysis, follow @cbssportsnhl and @BrianStubitsNHL on Twitter.