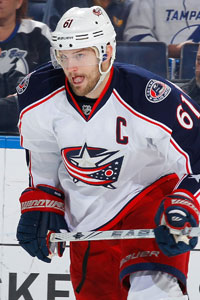 Nash has 17 goals and 17 assists this season. (Getty Images)
The Columbus Blue Jackets have made it pretty clear at this point that they will be sellers when the trade deadline comes around Feb. 27. What else would you expect from a team that's so far in the basement they can't see the closest team in the standings even with their high-beams on.
Jeff Carter has been seen as a clear trade target, assuming they can find a taker for him. But what about their captain, the true face of the franchise Rick Nash? They wouldn't trade him, a very talented player in his prime who really does enjoy being in Columbus.
The prevailing wisdom was no. But the thoughts, they are a changin'.
Here is some new gossip from John Shannon of Sportsnet.
I have received a couple of calls from friends of Nash, who claim that Rick is very unhappy with the way the franchise is going and realizes it will take five more years to rebuild, again. Nash is now telling people close to him that he would entertain being moved, but still will not be the one who asks for a trade.
Well isn't that interesting? For a player that is 27 now, the prospect of a Five-Year Plan (non-commie version, of course) wouldn't be that appealing.
While I'm skeptical Jackets GM Scott Howson will find it easy to get suitors for Carter, I doubt there would be any such issues regarding Nash. He's still signed for another six years, but that's easier to stomach than Carter's 10 years. The cap hit is very high at $7.8 million and that would cut down a lot of the contenders who are closer to the cap.
But it's more of the intangibles that make him perhaps more tantalizing. Nash has played fewer than 74 games in only one NHL season and that was in the first year post lockout. More importantly, he's a classic "character guy," one of those players that isn't carrying that stigmatizing baggage with him like a rain cloud in an Acme cartoon.
He's a guy that I can't help but like and feel for. He's been loyal to the Jackets (granted, that kind of cash thrown his way probably helps a bit), is a very good player and seems to be a quality guy. You wish he had experienced more than four playoff games at this point in his career.
If you are the Jackets, it's a tough call and clearly the return has to be right (see: incredibly high). Trading away Nash would be a tough one to sell to the fanbase that is growing ever more frustrated, especially if it's right for the rebuild.
What do you think, should the Blue Jackets even think about trading Nash away?
For more hockey news, rumors and analysis, follow @EyeOnHockey and @BrianStubitsNHL on Twitter.