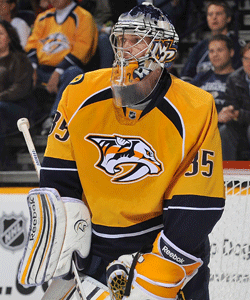 The Nashville Predators made a huge splash by giving goaltender Pekka Rinne a boatload of cash on Thursday. As in $49 million over seven seasons.
"It's just a big day for me and obviously I couldn't be happier right now," Rinne said (from the Tennesseean). "It's the organization that drafted me and now I have a chance to play next seven years here in Nashville. It feels great and I'm so happy right now."
The Vezina Trophy finalist goalie was scheduled to be an unrestricted free agent this coming summer along with Ryan Suter while Shea Weber is facing restricted free agency again, so getting one out of the way this early is huge and makes the task of keeping the three players around long-term a little less daunting.
Or perhaps even more daunting now, some will argue. Committing $7 million a season to Rinne is a massive, massive commitment, particularly to a goalie. The Preds just gave him the highest cap hit in the league for netminders as well as the highest deal in their franchise's history.
This means if they want to keep their core three, they will have to invest around $22 million in only three players as Weber is making $7.5 million this season and Suter, at $3.5 million now, is due for a very big raise, particularly with these two deals on his team.
"Today's signing is further evidence of our ownership's commitment to keeping our core intact," Predators GM David Poile said. "This is the first step of a process designed to retain our key players and leaders. Pekka has grown with our franchise, just recently established our franchise record for career shutouts and is now recognized as one of the game's elite players. We're thrilled to know that he will be backstopping our franchise for several years to come."
If that's the case, the Predators just announced a major change to their organizational approach. Nashville has consistently had one of the league's lowest payrolls. This season they are the third lowest with a shade under $50 million, according to Cap Geek. To keep the core three there, they will have to raise their payroll substantially, probably living closer toward the cap instead of the floor.
Again, this is an extraordinary commitment to a goaltender, one I think caught many off guard. Fact is, the Predators are an organization that hasn't had a tough time finding quality goaltenders. If there were any organization in hockey that might have had the idea that it can always find a good goaltender, it is Nashville with coach Barry Trotz's system. This shows they would beg to differ.
None of that is to say that Rinne doesn't deserve to be in the discussion of best goalie in the league. He definitely does, without a doubt. THe Predators just made their feelings on the matter perfectly clear, making Rinne the top-paid 'minder in the league, as far as cap hit goes. Rinne's agent, Jay Grossman, said that wasn't necessarily the intention of the negotiations, but I'm sure it's a side effect Rinne and crew will take.
In 11 games this season, Rinne has a 5-4-1 record with a 2.50 goals against average with a .922 save percentage. In the early going, Rinne was the only force keeping the Preds in games as the offense struggled. Now he has a very handsom reward.
Rinne, a native of Kempele, Finland, was second in voting for the Vezina Trophy and fourth in voting for the Hart Trophy earlier this year after helping the Predators win their first playoff series. He ranked second in the NHL with a .930 save percentage, third in goals-against average (2.12) and tied for sixth with six shutouts.
He leads the NHL with the most shutouts since 2008-09, and his 22nd last weekend against Anaheim also was his 100th career victory.
Nashville, which started play in the 1998-99 season, drafted Rinne in the eighth round in 2004 with the 258th pick overall. Rinne also has played for Finland in the World Championships in 2009 and 2010.
Some are wondering if the Predators didn't do things in the wrong order here, if they wouldn't have been wiser to sign Suter or Weber first instead of Rinne. To that I say, does it really matter? If the plan is to sign all three players, which it certainly seems to be, then I see little significance to the order of which the signings happen. It isn't always easy reaching long-term deals with players, so if one is ready to sign, then strike while the iron is hot. Not to mention that signing one sends a message to the other two that the team is willing to commit and try for a winner. That's an extra bargaining chip the Preds can use with Suter and Weber.
"Yeah, it's a great sign," Weber said. "It's a huge commitment by the team, showing they're committed to the guys they brought up in the organization. Obviously we're not thinking about that right now. We're trying to win games and I'm sure the rest will sort itself out."
Negotiations with Suter's agent are expected to pick up in mid-November, according to Pierre LeBrun of ESPN.com. I have to think this Rinne deal will help Nashville at that time.
"Yeah, we are good friends, but I'm the first one to sign, and hopefully those two sign after me," Rinne said. "I can only talk for myself, but it's no secret we all need those two guys. I'm the first guy to sign, I feel confident they love it in Nashville, but I don't want to comment on behalf of them."
So this deal seems good when you are looking at it just through the prism of keeping the three would-be free agents. There is plenty of cap space in Nashville. But when you step back from that narrow approach and see how these three will command more or less 1/3 of the salary cap themselves, you begin to wonder how it effects the rest of the roster. If the Preds are able to keep the rest of their players on the cheap and stay thrifty, then it might not be an issue.
The deal is jaw-dropping. That I get. I mean seven years for a goalie? Only Rick DiPietro and Roberto Luongo are signed for longer terms than that. So I'm sure Islanders and Canucks fans have some feelings on the matter.
But I'm not convinced it's as bad of a deal as many are saying. The big IF in the equation is if the Predators are OK with spending a lot more annually. If they are and then are able to sign Suter and Weber to deals too, then Nashville has a great core on the defensive end to play behind for years. I do feel uneasy about giving a goalie so much money and so many years, but if this is what it takes ...
Information from the Associated Press was used in this report
Photo: Getty Images
For more hockey news, rumors and analysis, follow @EyeOnHockey and @BrianStubitsNHL on Twitter.