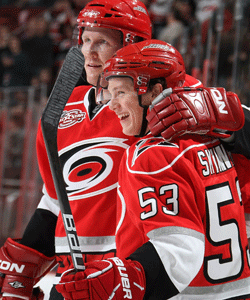 The hits keep on coming (no pun intended).
On Wednesday the Carolina Hurricanes announced that not one but two of their best players are the latest to catch the concussion bug that's spreading through the NHL. Reigning Calder Trophy winner -- and leading scorer with 12 goals and 24 points -- Jeff Skinner and top defenseman Joni Pitkanen are both out indefinitely because of the injury.
That means in the last 48 hours Skinner, Pitkanen, the leading goal scorer Milan Michalek and NHL's leading points man Claude Giroux have all had concussions announced. Throw in Sidney Crosby's possible concussion that was announced on Monday, and you have an all-star caliber list of concussed players.
The Flyers showed on Tuesday that they might be able to withstand the loss of Giroux by destroying the Capitals in Washington 5-1. But the Hurricanes are already in a world of hurt, sitting at the bottom of the Eastern Conference. Being down arguably their most talented offensive player as well as their top offensive defenseman will make new coach Kirk Muller's challenge of getting the 'Canes back in the playoff race even more monumental.
But the bigger question at play here has to do with why the players -- some of the league's best, mind you -- dropping like snow in Alaska. Concussions seem to be so much more common these days than they ever were. Why is that if the game hasn't changed much, if at all?
Well primarily the issue at hand is that now concussions are actually being recognized and diagnosed in a way they never were before. How many concussions went unknown through the history of the league is impossible to know, but the number is likely astronomical. However with today's education and attention to brain injuries, they are being treated with more caution.
But it can't be ignored too that this is one of the side effects of a bigger, faster and stronger athlete. Some of the guys on the ice any more are tanks on skates, massive bodies travelling at high rates of speed. Things are bound to get a bit uglier on the injury side.
At this point it's hard to find a player in the league who hasn't been concussed.
Photo: Getty Images
For more hockey news, rumors and analysis, follow @EyeOnHockey and @BrianStubitsNHL on Twitter.