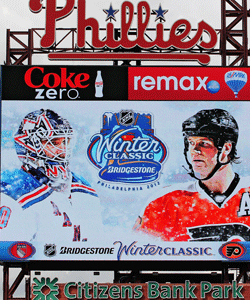 Want to take part in NHL history when the first outdoor game is played in the City of Brotherly Love to open the new year? OK, but it'll cost ya!
Adam Gretz has already gone over the difficulties of buying tickets to the game through the official avenues, i.e. the Philadelphia Flyers, New York Rangers and NHL. People in Philly just a tad angry with the plan.
So what about Stub Hub? Sure, you can get tickets there ... starting at $522.90. Look again in 10 minutes and the price is probably higher.
I'm somebody who still loves to go to a sporting event live. Hockey in person? Love it. Football from the stadium? Can't get enough. NBA from the arena? I can at least watch that. Being at the event just makes things better.
But this? I don't see who would want to spend that kind of money to sit in freezing temperatures so far away from the rink that you can't probably even see the game.
Of course you could always sit in the Hall of Fame Club at Philadelphia's Citizen's Bank Park. Those seats are only going for $4,499.00.
H/t to NYRangersblog.com
Photo: Getty Images
For more hockey news, rumors and analysis, follow @EyeOnHockey and @BrianStubitsNHL on Twitter.