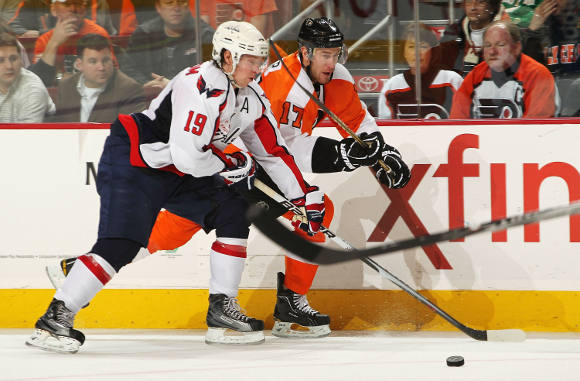 WHO CAN CLINCH:
The Washington
Capitals
can clinch their fourth consecutive trip to the postseason a few different ways tonight. The Caps are in if they beat the
Flyers
, get an overtime or shootout loss combined with a Carolina
Hurricanes
loss (in regulation or otherwise) or if Carolina loses in regulation to the Ottawa
Senators
.
ALREADY IN:
The Vancouver Canuck and Philadelphia Flyers.
GAME OF THE NIGHT: Washington Capitals (42-21-10) at Philadelphia Flyers (44-19-8), 7:30 p.m. ET (Versus)
If memories haven't already faded about that eight-game slide the Capitals had in December, a victory tonight might just do it. A win by Washington would pull them even in the points department with the Flyers atop the Eastern Conference. The Flyer will remain in first no matter what happens, however, since they have two games in hand on the Caps, which results in a better winning percentage. Here's a look at
our playoff tracker
.
The Caps will be without
Alex Ovechkin
, who the team announced Monday would be out seven to 10 days with an undisclosed injury. Arguably the Flyers most recognizable player, defenseman
Chris Pronger
, will also be out of the lineup as he recovers from an injury to his right hand that required surgery. The Flyers announced Tuesday that enforcer
Jody Shelley
would be out four weeks due to a fractured orbital bone suffered in practice. He will undergo surgery on Thursday.
There's still plenty of players left to make one of the East's better rivalries interesting to watch. The Flyers won two of the first three meetings this season and all went to at least overtime.
ALTERNATIVE VIEWING: New Jersey Devils (34-34-4) at Boston Bruins (39-22-10), 7 p.m. ET
The Devils are getting close to the point where they need to run the table to make the playoffs. Two teams and seven points stand between New Jersey and eighth-place Buffalo entering Tuesday night's action. The Bruins won the first two meetings this season.
GOLF WATCH:
The Colorado
Avalanche
and Edmonton
Oilers
won't get any new company tonight.
-- A.J. Perez
Photo: Getty Images