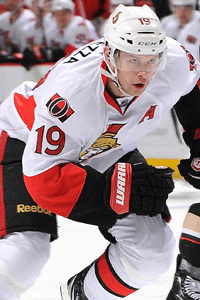 Spezza returned in time for the start of the game. (Getty Images)
With the warmup helmet conversation still going thanks to the frightening situation involving Oilers star forward Taylor Hall last week, wouldn't you know it another player took a pregame puck to the face this week?
Ottawa Senators All-Star forward Jason Spezza, who does not wear a helmet in warmups, was hit in the pregame skate on Monday night as his Sens were visiting the Los Angeles Kings. He was left bleeding, cutting his warmup short.
Fortunately for him, all he missed was the warmup skate. He returned in time for the opening faceoff. Although this irony can't be escaped, as pointed out by Ian Mendes of Sportsnet.
"What's ironic is that Spezza was asked today about wearing a helmet in warmup. Said he likes letting fans see him without one."
The NHL has a way of this happening. An accident happens, the conversation starts and then another example crops up. The same happened earlier this season with the visor debate. So this is going to only further the discussion of whether or not players should be required to wear helmets in the warmups.
Boston Bruins tough guy Shawn Thornton, never one to shy away from many conversations, weighed in on the subject last week after the Hall incident.
"Every time something happens it's [expletive] change the world, right?" Thornton told CSN New England's Joe Haggerty. "I've never worn one in 15 years. Have I been hit a couple of times? Probably ... but whatever. Would it affect my game? No. Do I think they have a right to tell me whether I can wear a helmet? No.
"My first game in the minors I was told that if you're a tough guy then you don't wear one during warm-ups. I never wore one. One of the older guys on the team, Greg Smyth, saw me wearing a helmet for warm-ups and said, 'What the [expletive] are you doing? Are you a tough guy or not?' I also had to wear leather straps for my first three years, so the trainers didn't have to change them when they snapped. That's the way it was. So after not doing it for a while I've just never worn one."
A part of me says he's making some sense, another part of me says that this old-time "tough guy" mentality is going to forever be an obstacle when it comes to trying to increase safety in the sport. I am a firm believer in the players' choice, but at some point maybe a little help is needed for players that might want to wear a helmet but don't want to appear soft.
In the case of Spezza, it could have been much worse. Players that don't wear visors take pucks to the eyes sometimes, but imagine if he took a puck just a little higher or to the side of the head where a helmet will cover.
However don't look for it to bring a change of heart for Spezza. This from Mendes after the game:
"Spezza told me that he will not consider wearing a helmet in warmups going forward. Felt like it was a freak accident tonight."
More from Eye on Hockey
First look at Taylor Hall
Video: Hall cut in warmups
For more hockey news, rumors and analysis, follow @EyeOnHockey and @BrianStubitsNHL on Twitter.