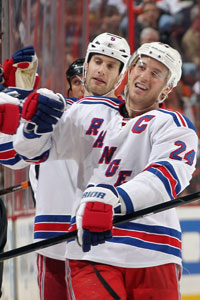 Callahan had four goals in the Blueshirts' two weekend wins. (Getty Images)
At this point I'm wondering what the New York Rangers have to do to convince everybody they are this good. I'm already there but I still find a lot of skeptics.
They do everything well enough. Some things they do exceptionally well, like stop pucks from going in the net. You can thank Henrik Lundqvist for that largely, but it's a team effort. There might not be a tougher team to get shots through the defensemen than the Rangers. They are physical, evidenced by their league high fighting majors. Now they are scoring just enough to support Lundqvist.
And they have passed pretty much every test thrown at them this season, including this weekend. Back-to-back against the Flyers and Capitals? No problem. They took all four points possible, including a fifth win in five chances against Philly on Saturday, 5-2 at Wells Fargo Center. That featured a Ryan Callahan hat trick.
Captain Cally kept it up with the first goal of the Blueshirts' 3-1 win on Sunday over the Caps. Go back to Thursday night win over the Lightning and that's five goals for Callahan in his last three games.
To give it a little more significance with a much larger sample size, Dave Lozo of NHL.com did some quick math today: using Callahan's last 113 games, he has averaged 32 goals per 82 games, a full season's worth. Not bad for a guy who has a career high of 23 set last season (which he is one away from breaking this season).
That doesn't even factor in the shots that he blocks. He is the epitome of John Tortorella's Rangers: hard-nosed, two-way player who will throw his body in front of anything and give the team all he has. Basically he has all the intangibles you love in a player while actually possessing many of the tangibles, too.
If you have any doubt, check out the goal he scored on Sunday. It was ugly but beautiful all at the same time.
At this point, the Rangers are atop the NHL standings in points (depending on Sunday's result in Detroit). Even if they aren't there at the end of the day, their points percentage is tops in the league. They have 77 points in 54 games, the Wings have played two more games (three more by the end of the night.
New York is actually pulling away from the rest of the East in the race for home-ice throughout the conference playoffs. They are up seven points now on the Boston Bruins.
The thing that gets me was on display this weekend. They have been just as good on the road as they have been at Madison Square Garden. They won both games this weekend despite one being in Philadelphia. Overall, they are 18-6-2 at MSG, 18-7-3 away from it. That's pretty remarkable. Winning on the road is crucial, especially when it comes to postseason success.
It all has people dreaming of the summer of 1994 again, another summer parade down Broadway.
Personally, I've run out of reasons to think it can't happen.
More from the weekend
Recaps
Stories
More Eye on Hockey
Blackhawks (falling) down
While they aren't pressing it yet, I get the sense that a lot of Blackhawks fans are digging through their things looking for that big red button. No, I don't mean the tchotchke Staples easy button.
With a sweep on their weekend visits to San Jose and Phoenix, including a 3-0 blanking by the Coyotes on Saturday night, the Blackhawks have lost eight consecutive games. Eight! They have earned just one of the last 16 points available.
Their place in the Central Division race is all but gone. They trail the division-leading Red Wings by 11 points. With two teams in between them (the Blues and Predators) the hope of winning the division is all but gone, especially with the Wings not leaving Detroit often for the rest of the season.
More importantly, they have to watch their playoff spot. With the loss to Phoenix, the 'Hawks are only three points up on eighth place, five ahead of ninth-place Calgary. And that could diminish further as the Blackhawks still have three more games on this extended road trip.
Playing a little game I'll call fun with Twitter, the Eye on Hockey account (follow it here!) asked if this was the bottom for the Blackhawks, if they had really hit the floor yet. One fan -- @therudeinshrewd -- didn't think so. "No, something tells me the #blackhawks haven't bottomed out yet. i think the road trip will be winless. THAT will be bottom."
It's gotten to the point that Adam Jahns of the Chicago Sun-Times is wondering if coach Joel Quenneville's seat isn't hot. The defense has some serious issues, coming in 27th in the league in goals against per game with an even 3.00. Their goal differential is down to plus-3 thanks to their high goals for (174 to 171).
This can't be too far from the bottom you'd figure with a team that has this type of talent, but it's getting close to desperate in Chicago.
Just give him the Hart
Evgeni Malkin has been absurd -- in a good way -- for the Pittsburgh Penguins, especially in the past two months.
For the third time since Dec. 17, Geno had himself a five-point game this weekend in Pittsburgh's 8 -5 win over the Winnipeg Jets on Saturday. Unlike the previous two five-pointers, this one didn't come with a hat trick. He was in a much more giving mood this time scoring a goal with four assists.
The outburst gave him a little separation from the points pack as he moved five up on Steven Stamkos and Claude Giroux with 67.
But considering the injuries the Penguins are dealing with again this season and their position of still being solidly in the East's playoff picture, Malkin is separating himself from the rest of the Hart candidates, too. Barring injury, it seems a safe bet that he'll take the "MVP" award home -- unless the aforementioned Lundqvist doesn't take it.
While we're at it ...
Might as well just hand Stamkos the Richard Trophy now too.
Scoring is down in the NHL, colleague Adam Gretz explained that in his most recent edition of Pucks & Numbers (a must-read weekly piece, hockey fans), yet Stamkos isn't stopping.
The 22-year-old is now up to 37 on the season after potting one in a 2-1 Lightning win in Buffalo on Saturday. That puts him seven ahead of Malkin and Phil Kessel in the goals department, a very comfortable lead with less than 30 games to go.
Like Malkin and the Hart, it's really hard to imagine at this point that Stamkos won't win the Richard barring injury.
Goals not so plentiful here
The Los Angeles Kings might be solely responsible for bringing down the league's scoring total mentioned above. Even with the coaching change from Terry Murray to Darryl Sutter, the Kings are still at the bottom of the league in that category, averaging just 2.07 goals per game.
That ineptitude was on display at the Islanders on Saturday. For the second straight game on their current road trip the Kings scored only one goal. The good news for them is that the Islanders only scored one goal in the first 60 minutes too before winning it in OT. So at least the Kings got a point.
But when you are fighting hard for a playoff berth in the Western Conference, scoring one goal in games isn't going to help you get to your end. The Kings are right now holding onto the seventh spot in the West after their league-high (tied with Florida and Carolina) 11th OT loss this season. Those extra points will be awfully important at season's end.
You have to think the Kings will be one of the more aggressive teams in the hunt for that elusive scoring forward at the trade deadline.
Quote of the weekend
For the visually/audio impaired ...
"I'm a little disappointed at the effort, the emotional level, a top team in the conference and league and to be honest. We got half the guys going and half not.
"That was my opinion. You might see differently, but that is what I saw. It's a big game for us and I was expecting more. It was tight game, they got three power play goals, we didn't score any.
"They play the same way every night. There's no surprises and if there is a breakdown their goalie makes the save and they block a ton of shots. Somehow they get the job done. They work hard. They play the same system every night and their goal plays really well every night.
"You have to bring it every night. I don't care who you are ... Every game matters. You have to bring it!"
-- Flyers defenseman Kimmo Timonen (from CSN Philly) on Saturday's 5-2 loss to the Rangers.
Sounds like those five losses to the Rangers this season (seven in a row) are really starting to take their toll.
For more hockey news, rumors and analysis, follow @EyeOnHockey and @BrianStubitsNHL on Twitter.