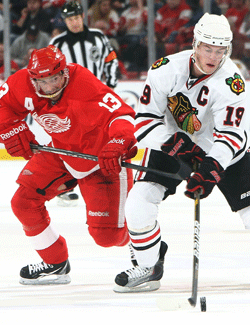 By: Adam Gretz
Pucks and Numbers: a weekly statistical look at what's happening around the NHL. This week: A look at the continuing decline of goal scoring in the NHL.
On Tuesday Morning TSN's Gord Miller
mentioned on Twitter
that there has been some talk from "a few" NHL general managers about potentially reintroducing the red line. The NHL attempted to open up the game by allowing two-line passes coming out of the lockout prior to the 2005-06 season in an effort to help increase goal-scoring across the league.
If there is one thing the NHL
doesn't
need right now, from an offensive standpoint, it's a rule change that would take the league back to the clutch-and-grab, neutral zone obstruction era of pre-lockout hockey. You remember those days. Scoring first means a near automatic win, games that looked as if they were being played in mud through the middle of the ice.
The clutch-and-grab aspect is already making its way back into the game as teams seem to be getting away with more obstruction and interference away from the play, and goal-scoring has been nearing the levels it was in the late 90s and early 2000s when scoring first was a near automatic win.
When the NHL came out of the darkness that was the lost season of 2003-04, there was a huge crackdown on neutral zone obstruction, and when combined with the elimination of the red line, goal-scoring soared during the '05-06 season to levels that hadn't been reached since the early 90s.
In the following years, however, it's slowly but surely started to regress back to the dead puck era, and it seems that a lot of it has to do with the fact that the league has started to look the other way on neutral zone obstruction and interference away from the puck, and it's becoming more and more obvious every time you turn on a game.
Below is a quick look at the total goals-per-game across the NHL going all the way back to the 2000-01 season, as well as the number of power plays each team averaged on a per-game basis:
NHL Goal Scoring
Year
Total Goals Per Game
Average Power Plays For Team Per Game
2011-12
5.48
3.4
2010-11
5.59
3.5
2009-10
5.68
3.7
2008-09
5.83
4.1
2007-08
5.57
4.2
2006-07
5.89
4.8
2005-06
6.17
5.8
2003-04
5.14
4.2
2002-03
5.31
4.4
2001-02
5.24
4.1
2000-00
5.51
4.5
The league may be trying to crack down on headshots and hits from behind (and that's a good thing), but it's also been looking the other way on the neutral zone obstruction.
Before the lockout, when clutch-and-grab hockey was at its peak, teams were still averaging more than four power plays per game. As you can see over the past three years, teams are getting fewer and fewer opportunities on the man-advantage, which naturally helps lead to fewer goals, and it's been on a steady downward trend for the past six years.
That also helps put some individual performances across the league in some perspective. So far this season there are only 17 players in the NHL averaging at least a point-per-game, and only two players, Pittsburgh's
Evgeni Malkin
and Philadelphia's
Claude Giroux
, are on a pace that would give them at least 100 points over the course of an 82-game season. Only five players are on a pace that would reach 90 points.
Last season only one player, Vancouver's
Daniel Sedin
, topped the 100-point plateau.
Of course, there's also been a player safety angle to a potential return of the two-line pass. It's been suggested over the course of the season that bringing the red line back and slowing the game down through the neutral zone could help cut down on the number of concussions across the league (a growing problem that isn't going away), as the game has simply become too fast and resulted in more violent collisions. On the surface, that does make some sense. But the problem with that argument is there is no way of really knowing for sure if concussions are a bigger problem now because the game is "too fast" through the neutral zone, or if head injuries were simply overlooked, underreported or simply viewed as "having your bell rung" 10 years ago and we're just more aware of it today.
At this point it's nothing but talk, but there is still some smoke for the return of the two-line pass, and fans of fast-paced, skillful hockey should be at least a little concerned. If they already aren't.
For more hockey news, rumors and analysis, follow @EyeOnHockey and @agretz on Twitter.