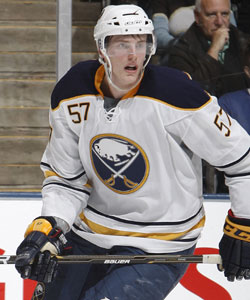 Yesterday the news came down that an extension for Tyler Myers was close in Buffalo. Today the deal is done after Myers and the Sabres reached a seven-year deal.
"We had two sides that wanted to stay together," Myers' agent, J.P. Barry, told the Buffalo News on Wednesday. "Tyler wanted to remain a Sabre, and having this done at an early stage was something that he wanted. He's happy that the club approached him about wanting to do this early."
A short while after the team announced the seven-year deal, the numbers on the contract slipped out. From Darren Dreger at TSN: "Myers 7 years, $38.5. $10M signing bonus July 1, 2012, the first day of ext. That means over a quarter of the contract is paid on day one." The Associated Press confirmed the value of the contract.
That part about the signing bonus and so much being paid on the first day is bound to raise some eyebrows. The contract is incredibly front-loaded, somewhat similar to many of the contracts that have drawn criticism in recent years, most notably Marian Hossa's and Ilya Kovalchuk's. But moreover, many are viewing it as an indication of the labor situation in the NHL.
From TSN's Bob McKenzie:
"Myers' $10M SB amounts to lockout protection. IF there were, say, season-long lockout, he'd still get his $10M, only lose $2M in salary."
With the length of the contract, it will take Myers until he is 28 and if an extension isn't signed before then, he will be eligible for unrestricted free agency. Of course, with the way things are starting to go in Buffalo with new ownership, I'm not too sure why he would be interested in leaving if the future really is as bright as it seems.
Myers, one of the biggest players in NHL history at 6-feet-8, won the Calder Trophy as the NHL's top rookie two seasons when he scored 11 goals with 37 assists and a plus-13. A debut season like that had people envisioning the next Zdeno Chara, a mountain of a man with a massive shot on the blueline. But he regressed some last season, seeing his point total dip by 11.
I must admit, I'm leery of such a long contract. There are very few players that I'd be comfortable signing to such a long deal and they are of the Alex Ovechkin/Steven Stamkos mold. It's just a risky proposition, you never know what could happen.
But of course the other side of the coin is that it gives the Sabres long-term stability at an important position with a potential perennial all-star.
Photo: Getty Images
For more hockey news, rumors and analysis, follow @EyeOnHockey and @BrianStubitsNHL on Twitter.