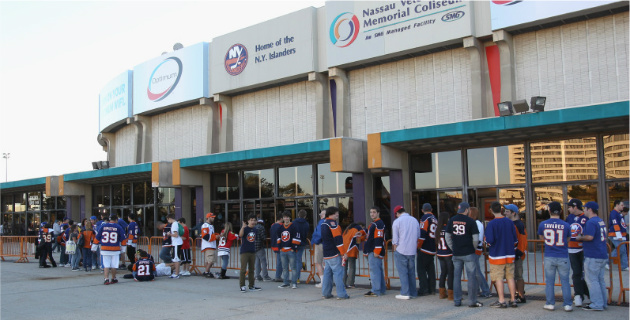 By: Adam Gretz
Have you ever found yourself sitting at a hockey game and said to yourself,
"man, I'd like to go and get a tattoo between periods?"
If so, and if you happen to be a fan of the New York
Islanders
, you're in luck because the club has reached an agreement with
Tattoo Lou's
to become the official tattoo shop of the Islanders,
according to a team press release
.
Not only will Tattoo Lou's been known as the official tattoo shop of the team, they will also be setting up a tattoo and body piercing station at 10 home games during the 2011-12 season, and will also sell Islanders-related jewelry and tattoo-inspired shirts. Keep in mind, this is also the same organization that signed
a deal to have an official cupcake supplier last season
. So they're definitely no strangers to unique corporate partnerships
Islanders Senior Vice President of Corporate Partnerships, Justin Johnson, said the team is thrilled to bring another Long Island institution to the arena, and that "Tattoo Lou's is an innovative brand with a creative vision. They're a great fit with our energetic team on the ice and our youthful fan base around Long Island."
Lou Rubino, the President of Tattoo Lou's, considers the partnership a victory for the Tattoo Industry.
"For a long time, tattoos were frowned upon," said Rubino. "But now, we've become more and more mainstream. One of the main things I love about this partnership is the history the Islanders have. My dad opened his first shop in 1958. We're a part of Long Island history just like the Islanders."
Tattoo's really aren't my cup of tea, mainly because I'm not sure I have the pain tolerance to sit through the entire process, and also because I would probably change my mind and want something different within a couple years of actually getting the thing. Still, I find the partnership to be, if nothing else, very interesting.
And it's not like hockey and tattoo's are an unheard of match, as a large percentage of the players across the league have had some tattoo work done at one time or another.
For more hockey news, rumors and analysis, follow @EyeOnHockey and @agretz on Twitter.