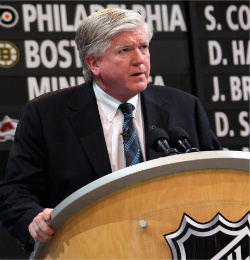 By: Adam Gretz
Toronto
Maple Leafs
general manager Brian Burke appeared on
the Brady and Lang morning show on Fan 590 Radio in Toronto
Friday morning and spent some time talking about the recent Research, Development and Orientation camp. The discussion eventually shifted toward the shootout and overtime, a topic of great debate among hockey fans.
When asked how the NHL should decide tie games during the regular season Burke said that, ideally, the two teams would continue to play until somebody scores a goal just like they do in the playoffs, but admitted that is not possible for an 82-game regular season. And he's right. Some of those playoff games end up going an two additional 20-minute periods, and that's just not going to happen over the course of a seven month regular season.
Regarding the shootout itself, Burke expressed his overall dislike for it before saying that he did vote for it and will continue to vote for it.
Said Burke, "I loathe the shootout. I hate it. I detest it. I despise it. I don't know if I can be any clearer, but our fans don't. Our fans like it, and it is a way to resolve games that shouldn't end in a tie all the time, and it's exciting. So I voted for it and I will continue to vote for it."
Whether or not
all
fans like it is up for debate. Purists and tradionalists that don't want to see any changes to the game likely share Burke's overall feelings toward the shootout, and probably wouldn't be as willing as he has been to vote for it to remain in the NHL. But while fans may complain about it, Burke did accurately point out that, for as polarizing as it may be among fans, you don't see any of them leaving games before shootouts take place (and of course you won't, because that's where the game is ultimately going to be decided). Look at it another way: It's probably the one of the few times other than a goal or a fight that fans, as a whole, come to their feet during a hockey game. For whatever that's worth.
One of the ideas that's been kicked around to help reduce the number of shootouts, while still making sure games don't end in ties, is an idea presented by Detroit
Red Wings
general manager Ken Holland that would involve four minutes of four-on-four hockey, followed by three minutes of three-on-three hockey.
Burke likes that proposal, but also pointed out that extending the overtime period can be problematic due to the additional wear and tear players would go through having to play a potential seven-minute overtime period a number of times over the course of the season.
"Longer overtime is not an option unless the union agrees to it," said Burke.
He added that he would vote for such a proposal -- and feels most people in the league would as well -- and would also vote for anything that reduces the number of shootouts.
Even though he will also continue to vote for the shootout.
You can listen to his entire appearence on the show
at Fan 590
.
Photo: Getty Images
For more hockey news, rumors and analysis, follow @EyeOnHockey and @agretz on Twitter.