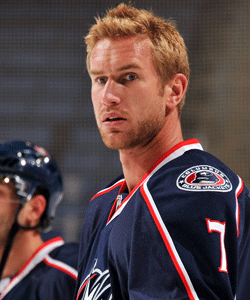 This is not how Columbus Blue Jackets GM Scott Howson envisioned this season starting out.
The team is one of only two who are winless (along with the Rangers) and one of his two star pickups -- James Wisniewski -- in the offseason still hasn't played because of a suspension. So just when they begin to think things can't get any worse ...
Jeff Carter, who was already doubtful for Tuesday's game against the Dallas Stars, is undoubtedly out. He'll also miss the next couple of games after the Blue Jackets placed him on injured reserve with a hairline fracture in his foot, an injury he sustained by blocking a shot.
"He's got a broken bone," coach Scott Arniel said. "Now it's all about pain tolerance. ... It's stabilized, but it's still pretty tender.
"Until he can get a boot on that foot and be able to push with it, we're in wait-and-see mode."
Carter was brought in to give the top line in Columbus some serious juice, figuring a combination of Carter and Rich Nash would be lethal. But so far, Carter, who had at least 33 goals in each of the last three seasons, has been held scoreless. He leads the league in a not-so flattering statistic, most shots on goal (20) without scoring. But he does have three assists and a plus-1 rating.
The fracture occurred on a bone that was already bruised from training camp and where he had a steel plate inserted to fix a broken bone while with the Flyers.
Aaron Portzline at the Columbus Dispatch points out that Carter continuing on despite pain hasn't helped matters in the past.
But Carter's willingness to play through pain might be part of the problem. He missed only a couple of days of training camp -- and one exhibition game -- after suffering the injury last month.

"If you can play with pain, you play," said Rick Curran, Carter's agent. "Jeff has proven in the past that he's quite willing to do that, possibly to the detriment of the injury itself.

"At some point, when you have the same injury recurring, it's necessary to sit back and let it heal properly. At this point, I think it's premature to say what should happen."
By putting him on the IR and thus sidelining him out at least a week, there will be no temptation to gut it out here. Columbus will need Carter around for the rest of the season if they want to rebound from the sluggish start.
Photo: Getty Images
For more hockey news, rumors and analysis, follow @EyeOnHockey and @BrianStubitsNHL on Twitter.