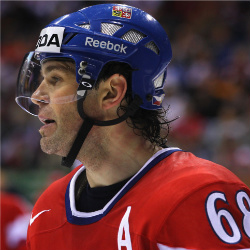 By: Adam Gretz
It's been over 10 years since the Czech Republic was one of the top hockey powers on the planet, winning Gold at the 1998 Winter Olympics and boasting an impressive list of NHL players. Over the years their numbers across the NHL have dropped significantly. Last season there were just 42 players from the Czech Republic to appear in the NHL, down from their peak of 78 during the 2001-02 season.
Perhaps the best Czech player ever,
Jaromir Jagr
, (I say perhaps because you can make an argument for Dominik Hasek in that discussion) will be returning to the NHL this season as a member of the Philadelphia
Flyers
after spending the past three seasons playing in Russia. And also after what was a highly entertaining and, at the same time, maddening free agency courtship earlier this summer.
Between 1997 and 2008, which was Jagr's last year in the NHL, he was the top scoring player from the Czech Republic in the NHL in eight of those seasons, and the two years he wasn't (2002-03 and 2003-04, also two of the worst seasons of his career) he finished third and fourth respectively.
Can he return to the top of the list in 2011 after a three-year stop in the KHL?
The top-scoring Czech player last season was a three-way tie between
Martin Havlat
,
David Krejci
and
Patrik Elias
with 62 points, and 2009-10 it was
Tomas Plekanec
with 70. In Jagr's last NHL appearance three years ago he scored 71 with the
Rangers
, which led the team .
I guess the question becomes whether or not Jagr can still be a 60-70 point player at the age of 39. During his stay in the KHL he was nearly a point-per-game player over the three-year stretch, and finished in the top-10 in scoring twice, including this past season. It's obviously a different style of play on a different playing surface and in what seems to be lower-scoring league, so it's not exactly easy to see how the production would translate.
We've seen elite players like Teemu Selanne and
Nicklas Lidstrom
continue to put up huge numbers in the NHL at the age of 39 and beyond (Selanne, for example, recorded 80 points last season as a 40-year-old), and Jagr was certainly an elite player during his time in the NHL. And even though he wasn't in the league the past three years, he was still playing hockey in what is probably the second-best league in the world. He also showed he can still play against a high level of competition during the 2010 Olympics, as well as the most recent World Championships.
This season he's going to have a chance to be one of the top offensive weapons (along with
Claude Giroux
and youngsters like James vanRiemsdyk) on a retooled Flyers team that should still score its share of goals, even if they don't look anywhere near as dangerous -- on paper, anyway -- as they did before trading
Mike Richards
and
Jeff Carter
.
It's a bit of a mystery for sure, and it's hard to figure out what to expect. He's certainly not as explosive or fast as he was during his prime, but it's hard to believe his hands and offensive skill have deteriorated to the point that he won't still able to put in between 50 and 60 points, and perhaps more, assuming he stays injury free.
Photo: Getty ImagesFor more hockey news, rumors and analysis, follow @EyeOnHockey and @agretz on Twitter.